Welcome Michael – great to have you and your company Vidyard featured on Reel Designer; we're certain our audience will be keen to hear about your services. First, let's hear a bit about yourself.
Michael Litt / VIDYARD: Glad to be here – I've been following you guys for some time now.
I've always been interested in video. I used to edit videos of my friends and I skiing, surfing, biking, you name it. I love how video can tell a story without words. I love how video can drive emotion, I love the balance of various artistic mediums to engage and entice.
During undergrad, I ran and sold a blog focused on semi-conductor design and consumer electronic assembly. I found that the video teardowns engaged my audience much better then the static, text/image combo teardowns.
I also worked at a very large consumer electronic company that licensed the production of video to help explain the installation and setup process of a very complicated piece of software. I saw first hand the impact that proper video execution had on bottom-line revenue. I knew that I could turn my passion into a business.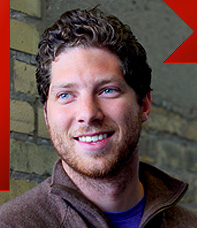 That's when my co-founder and I started Redwoods Media. We make explainer videos for companies – it's tonnes of fun to experience new products and stories.
Our customers were always interested in Return on Investment (ROI). It was very difficult to predict and so we started building an analytics platform as part of our 4th year design course at the University of Waterloo. The original platform was utilized to drive more sales through data, but our customers wanted access to it. We realized the opportunity and started charging $20/month for the data.
Shortly, the demand for the platform exceeded the demand for content production and we shifted our focus. We were accepted into Y Combinator and built Vidyard, the worlds first Video Marketing Platform.
Video has been an idle and hail-mary element for most corporations looking to engage their audience in a more conducive way. The problem to-date is that video is big, impenetrable Black Box. There's no key, you can't see what goes on inside. Even the available analytics platforms do a poor job, at most they only offer a small window inside the box.
Vidyard is the key to that black box.
Vidyard is described as video marketing meets video hosting. What are your core services?
Michael Litt: We're a Video Marketing Platform.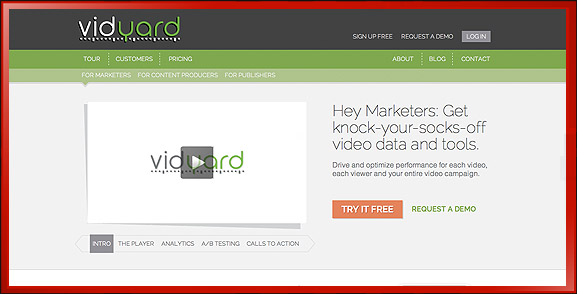 Our core services are focused around the modern-marketers needs. We're talking no-brainer and yet otherwise unavailable items like A/B testing for thumbnails, Full-Service YouTube channel management, Easy to build Call-to-Actions integrated right into the player (and functional on all devices), integration with your favorite marketing automation platforms (Eloqua, Hubspot) and the deepest and most flexible video analytics platform you've ever seen.
This is all on top of the standard and best in-class items we offer such as – any format and real-time video encoding, full-service hosting and distribution via our global video network and fully customizable player and embedding solution.


Where do we see Vidyard in action?
Michael Litt: Customers we have include: Deltek, FIS, Ceridian and Eloqua – there are thousands of businesses using Vidyard today. We've done some really cool stuff with RapGenius, 50 Cent (all verified video explanations are powered by Vidyard) and JunoTV.
What is special about your Call To Action (CTA) Videos?
Michael Litt: We have two Call to Action products.
Popout, is an interactive "popout" panel that emerges from the side of the player during playback. It's unique in that it does not interfere with the viewing experience (as overlays do) can be designed using our super easy-to-customize editor and can integrate with any HTML based service (e-commerce, interactive maps, etc.). It's essentially popcornJS for the masses!
The other CTA product we offer is the "final CTA". It uses the same editor as the "popout" product but contains all information within the player frame. When the video ends, you can drive action to a link, or integrate with any product. The e-commerce and lead-capture opportunities are very exciting with both of these product.
Aside from their unique functionality, both features are also compatible on all platforms. We're 100% HTML5 compliant – CTA's "popouts" function flawlessly on iPad!
Vidyard offers three main pricing tiers, please walk us through each, and what a buyer gets.
Michael Litt: Starting last week, you get every feature on every plan! If you're looking for even more advanced marketing tools, application programming interfaces (API's) integrations, super high-usage or custom player implementations, we've got a model for you in our "Enterprise" tier.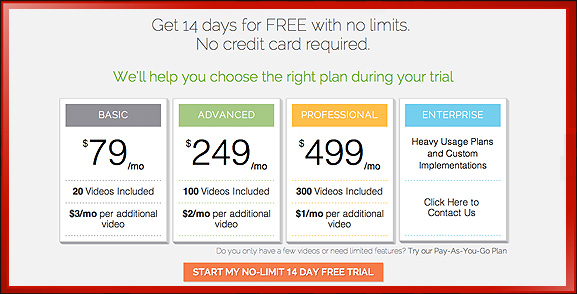 Lastly, if you have 1-10 videos and are looking to do some thumbnail split testing, there is pay as you go. Pay as you go is designed to help you kick off your video marketing initiative.
Why is video so good at getting viewers to connect with a business or brand?
Michael Litt: It's no surprise that video engages more senses then standard text.
Audiences today are inherently attacked with content from all angles and crave that "lean-back" experience. The key to helping people fall in love with your brand is to get them to "lean-in" while they're "leaning-back" – see what I did there?
Another term I'll throw out here is the concept of narrowcasting. Content needs to speak directly to your audience – we live in the world of longtail – it's important to target your niches accordingly.
How do you know a company will have get return on investment from video?
Michael Litt: We'd ask them about their video initiative. Are they tracking it's success? On what metrics? The reality is that most companies are only tracking total number of views – a blind metric.
We could create a cute cat video that might exceed 50K views on YouTube but has nothing to do with our brand or our customers. If 100 of our customers saw a video showcasing our Hubspot integration, we'd be thrilled!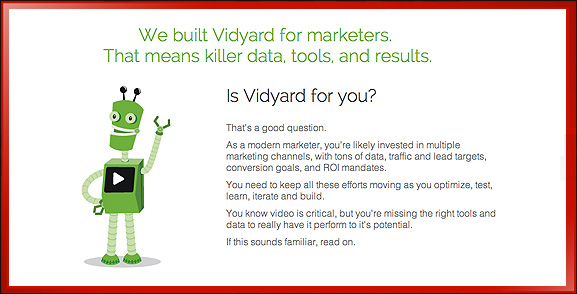 What matters most is engagement and creating that interface between your sales and marketing efforts with intelligent analytics. You need to be able to associate views with contacts, ensure your thumbnails are optimized and target your demographics. For all of this, you need extensive and filterable data sets.
How does Vidyard fix the typical problems that companies are having?
Michael Litt: Vidyard is the only true video-marketing platform currently available – most companies are utilizing a hybrid of a few different Online Video Platforms (OVPs) + YouTube for their marketing initiatives.
In that regard, we're alleviating massive pains by offering the full OVP experience with marketing automation and YouTube integration built in. We're not solving people's pains; we're saving them from video marketing misfires!


What are the top 5 tips you have for a company looking to have video produced professionally?
Michael Litt: Think about starting the process in-house.
Planning to spend $50,000+, is only going to get your head in the "broadcasting" perspective.
Think about exposing your corporate culture via video prior to investing tonnes of money into a 3rd party content producer. The reality is that you know your brand better then anyone else and by creating video in-house you're learn the quirks of production and get a feel for what resonates with your audience via the data you pull.
Then, if and when you decide to go for the $50,000 video, you'll be better prepared to work with the agency and deliver on messaging.
You're heavily invested in this industry too – any predictions for online video marketing?
Michael Litt: Big organizations like Salesforce and even Square have in-house teams dedicated to producing and marketing video.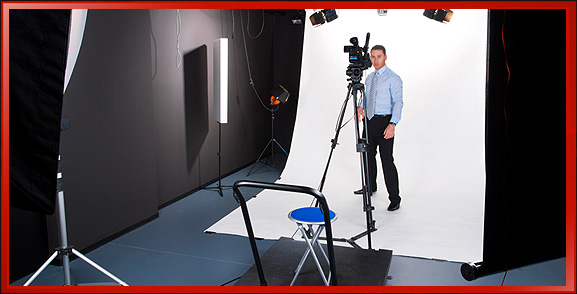 If I had told you in 2006 that every business would have a social media manager in-house, you would have called me crazy.
Today, I'm going to tell you that one day in the not-so-distant future, every company is going to house it's own web-video specialist. Camera equipment is getting cheaper and easier to use, and community colleges are churning out individuals capable of setting up a shot and working their way around editing software.
The signs are all there – it's going to happen.
Great information, thank you for sharing! What are the best way for someone to get started with Vidyard?
Michael Litt: The best way to get started is to visit our website and Try it Free for 14 days. Shortly after you sign up, you will hear from our customer success team. They'll help you get setup on the plan that best addresses your need! Find us on Facebook, Twitter, YouTube and of course www.vidyard.com!