Video production is a technical skill that can be taught and learn learn – everyone, even seasoned professionals, had to start somewhere. In addition to taking an online course, reading books are a great way to get a grasp of how you to can start producing your own videos. Business owners, students and marketers will all benefit understanding the processes that go into creating good looking video.
How to Shoot Video That Doesn't Suck: Advice to Make Any Amateur Look Like a Pro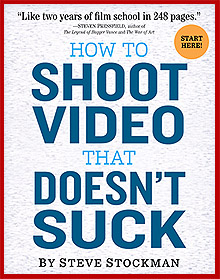 by Steve Stockman | View Book Online
Synopsis: "How to Shoot Video That Doesn't Suck is a quick and easy guide that will make your video better instantly– whether you read it cover to cover or just skim a few chapters. It's about the languge of video. How to think like a director, regardless of equipment (amateurs think about the camera, pros think about communication).
It's about the rules developed over a century of movie-making–which work just as well when shooting a two-year-old's birthday party. Written by Steve Stockman, the director of Two Weeks (2007), plus TV shows, music videos, and hundreds of commercials, How to Shoot Video That Doesn't Suck explains in 74 short, pithy, insightful chapters how to tell a story and entertain your audience. How to shoot video people will want to watch." read reviews online…
Corporate Video Production: Beyond the Board Room (And OUT of the Bored Room)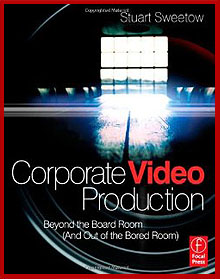 by Stuart Sweetow | View Book Online
Synopsis: "Go beyond the bland talking-head and PowerPoint slide-style of most corporate videos and learn how to land coveted corporate contracts with these comprehensive techniques froman industry veteran.
Stuart Sweetow teaches you how to make imaginative corporate videos with eye-catching design, rhythmic editing tricks, and essential scriptwriting and interview techniques. Learn how to shoot on location or in a studio and how to work with employees-turned-actors.
Also, discover how to get contracts and to produce online videos and podcasts for corporations, government agencies and non-profit organizations." read reviews online…
Single-Camera Video Production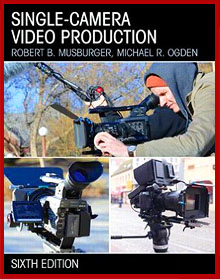 by Robert B. Musburger and Michael R. Ogden | View Book Online
Synopsis: "Learn everything you need to know about producing single-camera video, from preproduction planning to setting up, rehearsing, shooting, editing, and delivering. Master lighting, audio, and editing techniques that will enhance the quality of your video projects and captivate your audience.
Simple, elegant, and easy to use, Single-Camera Video Production, Sixth Edition is a staple in any video student or artist's library. Whether you're just learning the basics of video production or you're a veteran who needs a refresher, this book provides you with a toolkit for understanding and implementing single-camera workflows, as well as how to use the single-camera format to its best advantage by emphasizing the importance of goals, audience analysis, and technology." read reviews online…
The Shut Up and Shoot Freelance Video Guide: A Down & Dirty DV Production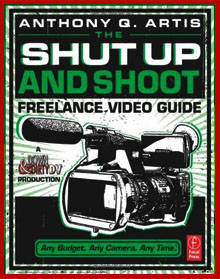 by Anthony Q. Artis | View Book Online
Synopsis: "Covering everything from dealing with clients, production strategies and step-by-step guidance on planning, shooting, lighting and recording the most common video-for-hire genres this book sets out to help you rise above the competition and make more money by doing quality work.
Anthony Q. Artis will instill you with the "down and dirty" mindset that helps you to creatively maximize your limited resources regardless of your budget.
Lavishly illustrated in full-color with real-world step-by-step visuals, The Shut Up and Shoot Freelance Video Guide is like a film school education in the form of a video cookbook.
You don't need loads of money to make professional-looking videos – you need to get down and dirty!" read reviews online…
Video Production Handbook
by Gerald Millerson and Jim Owens | View Book Online

Synopsis: "Video Production Handbook shows the full production process, from inception of idea to final distribution. The book focuses especially on why each step occurs as it does and provides guidance in choosing the simplest methods of creating the shots you want in your video project. Concentrating on the techniques and concepts behind the latest equipment, this book demonstrates the fundamental principles needed to create good video content on any kind of budget.
Suitable for students and beginning videographers, the new edition of this classic text retains its clarity and directness but has been completely revised and updated.
This practical sourcebook has been specially prepared to give you an at-a-glance guide to quality video program-making on a modest budget." read reviews online…
Digital SLR Video and Filmmaking For Dummies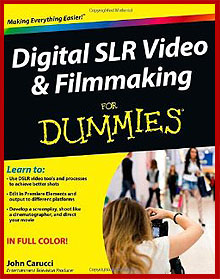 by John Carlucci | View Book Online
Synopsis: "Step-by-step guide for using your digital SLR to make quality video With digital SLR cameras becoming more and more popular as replacements for standalone video cameras, this book helps photographers become better videographers and shows videographers how to incorporate DSLRs into their work.
The book includes an overview of the DSLR video tools and process and shows how to establish camera settings for effective capture, light a scene, get sound, and achieve the film look. The book also offers the basics on editing footage into a final product using common video editing tools. Offers everything needed to shoot, produce, and edit a professional looking videos using DSLR video equipment. Written for both professional photographers and videographers and those just starting out." read reviews online…
The Digital Filmmaking Handbook, 5th Edition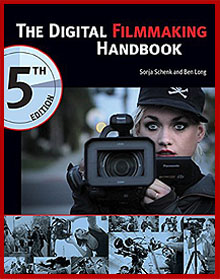 by Sonja Schenk and Ben Long| View Book Online
Synopsis: "The Digital Filmmaking Handbook, 5th Edition is the one-stop resource to guide you in taking your digital film project from initial concept to finished project. Covering everything from writing and pre-production planning to shooting and post-production editing and efects, the book has been thoroughly updated to cover the latest hardware, software, and production processes.
It also now includes coverage of the latest filmmaking-related apps and the shift toward digital distribution. You'll learn the ins and outs of the craft and you'll pick up techniques for creating shots and effects that transcend typical "low-budget" productions. Whether your goal is to create an industrial project, a short subject for a website, or a feature-length movie for a film festival, The Digital Filmmaking Handbook, 5th Edition will guide you every step of the way." read reviews online…
Digital Filmmaking for Beginners A Practical Guide to Video Production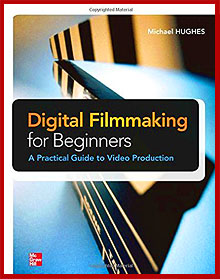 by Michael Hughes | View Book Online

Synopsis: "Digital video cameras are everywhere–even on our phones! But cameras don't make great movies; filmmakers do. Written by a seasoned pro with 40 years of teaching experience, Digital Filmmaking for Beginners is your fully illustrated introduction to all technical aspects of digital filmmaking.
Featuring clear, concise instruction–accompanied by online video demonstrations–this comprehensive guide covers the best methods and techniques to plan and script projects; set up lighting, microphones, and cameras; and shoot, edit, and apply postproduction effects and other finishing touches. Whether you're an amateur film buff or an aspiring professional videographer, this is the source for everything you need to bring your ideas from the page to the screen." read reviews online…
The DSLR Filmmaker's Handbook: Real-World Production Techniques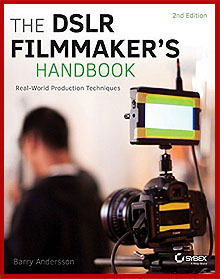 by Barry Andersson and Janie L. Geyen | View Book Online
Synopsis: "Learn to shoot professional-quality HD footage with your DSLR Camera The DSLR Filmmaker's Handbook, 2nd Edition is the expert guide to getting professional movie-making results with an HD video-enabled DSLR camera.
Fully updated to reflect the latest technology, this updated edition provides guidance toward best practices and techniques that maximize results. Shooting HD video with a DSLR has many benefits and also a few tricky drawbacks but this guide gives you the insight and training you need to overcome these challenges as you learn what to anticipate, how to work around it, and how to fix imperfections in post-production. Award winning independent filmmaker Barry Andersson walks you through the shooting process and shows you what to do." read reviews online…
The Complete Film Production Handbook (American Film Market Presents)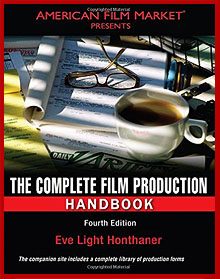 by Eve Light Honthaner | View Book Online
Synopsis: "This book is for working film/TV professionals and students alike. If you're a line producer, production manager, production supervisor, assistant director or production coordinator–the book has everything you'll need (including all the forms, contracts, releases and checklists) to set up and run a production–from finding a production office to turning over delivery elements.
Even if you know what you're doing, you will be thrilled to find everything you need in one place. If you're not already working in film production, but think you'd like to be, read the book — and then decide. If you choose to pursue this career path, you'll know what to expect, you'll be prepared, and you'll be ten steps ahead of everyone else just starting out." read reviews online…
Video Rules: How To Think About How To Shoot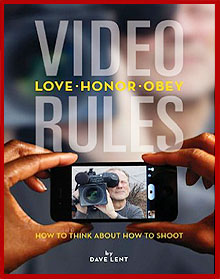 by Dave Lent and Susan Burgess-Lent | View Book Online
Synopsis: "As the Video Age returns us to our tribal roots as storytellers, artists and performers, it's time to re-think what we have to say and learn to say it with a camera. Veteran cameraman and producer Dave Lent distills 40 years of accumulated know-how–shooting news, documentaries, sports, business and entertainment–into a set of fun-to-read, easy-to-grasp principles.
While Dave never met a camera he didn't like, he learned early and often that the power of video–to inform, entertain, and inspire–flows not from the camera, but from the craft—the fine-tuning of a viewer's perceptions. Whether you're an aspiring filmmaker, seasoned professional or the home/office paparazzi, VIDEO RULES will dramatically shorten your learning curve, showing you how to… "This book will make everybody want to shoot." Amy Marash, veteran news and documentary camerawoman." read reviews online…
The Videomaker Guide to Video Production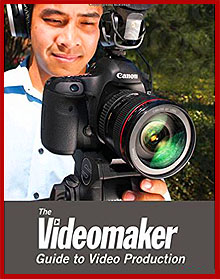 by Videomaker and John Burkhart | View Book Online
Synopsis: "From the editors of Videomaker Magazine comes this new edition that you have been waiting for.
The Videomaker Guide Digital Video, fifth edition, provides information on all of the latest cutting edge tools and techniques necessary to help you shoot and edit video like the pro's.
Learn about equipment, lighting, editing, audio, high definition, and all aspects of video from the leading experts on videography!" read reviews online…
Video Production Techniques: Theory and Practice From Concept to Screen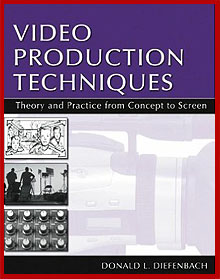 by Donald L. Dieffenbach | View Book Online
Synopsis: "Video Production Techniques begins with the basic skills of video production, so students experience writing, shooting and editing right away. It then moves to short-form projects and in-depth explorations of lighting and sound, concluding with an exploration of documentaries, news, and other nonfiction forms.
The final section is dedicated to advanced applications, including the process of creating long-form projects, the elements of directing, and strategies for effective marketing and distribution. The book concludes with a chapter exploring professional opportunities in production and options for further study. The book includes a Companion DVD with original demonstrations, clips from professional works, and interviews with film and video professionals." read reviews online…
Do you have a book or know of a book you believe should be on this list? Tell us!