YouTube is a money maker, and it's stunning growth is no accident. The success that video marketers have had using the platform is clear, and thankfully, well documented. And can be learnt. This list of popular YouTube Marketing books provides a good cross-section into the opportunities, strategies and technical-elements of exploring YouTube as a powerful marketing – and money making – platform.
YouTube and Video Marketing: An Hour a Day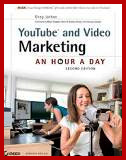 by Greg Jarboe | View Book Online
Synopsis: "If you're a marketer, consultant, or small business owner, this is the guide you need to understand video marketing tactics, develop a strategy, implement the campaign, and measure results.
You'll find extensive coverage of keyword strategies, tips on optimizing your video, distribution and promotion tactics, YouTube advertising opportunities, and crucial metrics and analysis. Avoid errors, create a dynamite campaign, and break it all down in achievable tasks with this practical, hour-a-day, do-it-yourself guide." read reviews online…
YouTube for Business: Online Video Marketing for Any Business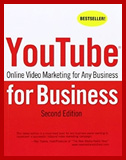 by Michael Miller | View Book Online
Synopsis: "YouTube marketing is easy enough that any business can do it. All you need is some low-cost video equipment—and a winning strategy. After you figure out the right type of videos to produce, you can use YouTube to attract new customers and better service existing ones.
That's where this book comes in. The valuable information and advice in YouTube for Business help you make YouTube part of your online marketing plan, improve brand awareness, and drive traffic to your company's website—without breaking your marketing budget." read reviews online…
YouTube: An Insider's Guide to Climbing the Charts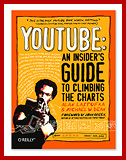 by Alan Lastufka | View Book Online
Synopsis: "This book is written by two veteran 'Tubers who live their art and know what they're talking about — especially Alan Lastufka, a.k.a. "fallofautumndistro," who has over 13,000 YouTube subscribers and over 4 million views.
Alan and co-author Michael W. Dean show you how to make a quality video, and how to optimize, encode, upload, and promote it. This book can't promise you'll be rich and famous, but it can tell you how to make great video art, and what you need to do to get your work seen." read reviews online…
Ultimate Guide to YouTube for Business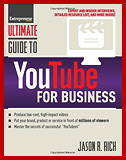 By Jason R. Rich | View Book Online
Synopsis: "From video production to promotion, author Jason R. Rich details how to use the power of YouTube to promote business brands, products, or services, ultimately attracting new customers.
Unfamiliar entrepreneurs receive a full tutorial on pre-production and production essentials, from developing video ideas that attract attention to overcoming lighting and sound challenges. Amateur producers receive a full list of equipment needed, and they gain tips from well-known YouTube users on how to produce quality spots without breaking the bank." read reviews online…
YouTube For Dummies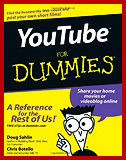 by Doug Sahlin | View Book Online
Synopsis: "YouTube For Dummies takes the classic Dummies tact in helping tech novices get a handle on a popular technology that more tech-savvy audiences consider "simple." With so much content on YouTube getting media attention, more first-timers are jumping on the site and they need help. The fun and easy way to join the YouTube community—and get noticed!
This fun, friendly guide shows you how to search for videos, save your favorites, and even create your own high-quality production! You'll see how to subscribe to a YouTube channel, create playlists, get your video seen, embed YouTube videos in your Web site or blog, and much, much more!" read reviews online…
How to Rank in YouTube: How to get more Views on Youtube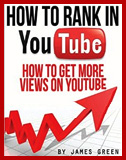 by James Green | View Book Online
Synopsis: "Google and YouTube are quite different animals and need to be treated as such and many of the YouTube ranking factors may surprise you. In a nutshell, this book will provide a complete SEO masterclass for ranking your YouTube videos and will teach you how to drive enormous amounts of free traffic to all of the videos in your YouTube channel using highly effective SEO techniques.
Follow this SEO blueprint and you'll be way ahead of the competition and earning a passive income from your YouTube videos for many years to come." read reviews online…
YouTube Strategies: Making And Marketing Online Video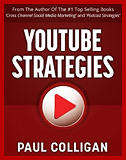 by Paul Colligan | View Book Online
Synopsis: "Anyone can see success on YouTube with the right strategies. That's why I wrote this – I course about YouTube that have done well, and made me some good money, but I always got frustrated with the simple reality that whenever we would put something out there, YouTube would change their interface.
Some people have a hard time seeing past that. This book is simple – it is the top 21 questions I get asked about YouTube (as ell as a few that people should be asking) and the answers to each. At the end of each answer is an even shorter summary and a few action items. Put them to good use… read reviews online…
YouTube Channels For Dummies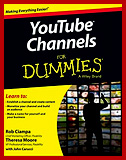 by Rob Ciampa | View Book Online
Synopsis: "Written by a successful YouTube channel producer, YouTube Channels For Dummies shows you how to create content, establish a channel, build an audience, and successfully monetize video content online. Beginning with the basics, it shows you how to establish a channel, join a partner program, and develop a content plan.
If you want to harness this irresistible platform and reach a global platform, YouTube Channels For Dummies makes it easy. In no time, you'll have the know-how to create a YouTube channel with regular subscribers who watch, re-watch, and share your videos." read reviews online…
Do you have a book or know of a book you believe should be on this list? Tell us!