Video marketing for communicating the features and benefits of an organization or businesses' services, brand or products are accessible to everyone today. Plenty of books are available on the topic written by marketing experts who explain the benefits and step-by-step how to implement effective video marketing strategies.
The User Experience Team of One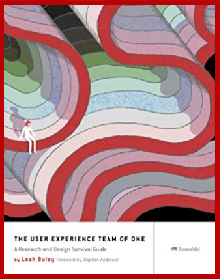 by Leah Buley | View Book Online
Synopsis: "The User Experience Team of One prescribes a range of approaches that have big impact and take less time and fewer resources than the standard lineup of UX deliverables.
Whether you want to cross over into user experience or you're a seasoned practitioner trying to drag your organization forward, this book gives you tools and insight for doing more with less.
This book can help you spread the growth of a new and exciting field, one person, team, and company at a time ." read reviews online…
More Books to Come Soon…