Video marketing  for communicating the features and benefits of an organization or businesses' services, brand or products are accessible to everyone today. Plenty of books are available on the topic written by marketing experts who explain the benefits and step-by-step how to implement effective video marketing strategies.
Video Marketing for Dummies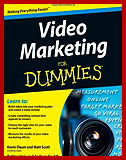 by Kevin Daum and Bettina Hein | View Book Online
Synopsis: "Video marketing is rapidly gaining popularity in online marketing and this fun-but-practical guide presents you with all aspects of video marketing from planning to production to distribution.
You'll learn how to create a video strategy, produce an effective video, put it online, and get your video to the right consumers so you can help your business succeed.
Kevin and Bettina have vast experience in video creation and marketing and explores ten video campaigns so you can learn from their successes and challenges."  read reviews online…
101 Video Marketing Tips and Strategies for Small Businesses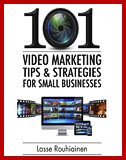 by Lasse Rouhiainen | View Book Online
Synopsis: "Discover how to plan, record and promote videos to attract more clients and customers to your company. Learn to implement the latest YouTube and iPhone video marketing strategies in this insightful book. Most small and medium size companies are unaware of the huge power of utilizing video as a tool to improve their credibility and confidence with their customers, and to teach and educate them about the benefits of your products.
This book provides you with a clear list of the most important topics related to video marketing and explains it in 101 very easy to understand quick tips and clear strategies you can action immediately."  read reviews online…
Get Seen: Online Video Secrets to Building Your Business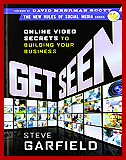 by Steve Garfield | View Book Online
Synopsis: "The era of online video has arrived—now make it work for your business
In the last year, the world of online video exploded. Hollywood got into the game, professional actors and writers joined in, and independent producers looked to find their niche. Now, companies are wide awake to the opportunities for product and brand promotion as well as customer engagement. So how do you want to fit into the new online video universe?
The must-have guide, Get Seen by Steve Garfield, the 'Paul Revere of video blogging,' offers a quick and complete toolkit to get you up to speed on the latest that online video and related media have to offer."  read reviews online…
The Power of Visual Storytelling: How to Use Visuals, Videos, and Social Media to Market Your Brand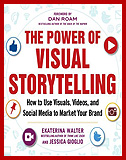 by Ekaterina Walter | View Book Online
Synopsis: "Filled with full-color images and thought-provoking examples from leading companies, The Power of Visual Storytelling explains how to grow your business and strengthen your brand by leveraging photos, videos, infographics, presentations, and other rich media.
Human brain processes visuals 60,000x faster than text.
Web posts with visuals drive up to 180% more engagement than those without.
Viewers spend 100% more time on web pages with videos.
The book delivers a powerful road map for getting started, while inspiring new levels of creativity within organizations of all types and sizes."  read reviews online…
Content Marketing For Dummies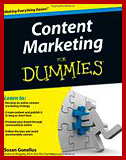 by Susan Gunelius | View Book Online
Synopsis: "Successful online marketing is about more than creating a Facebook page or writing a corporate blog. Brands need to build lasting connections with the right customers online through an effective online content marketing strategy, and this book shows you how. It explores ways to create a content marketing strategy, identify the content that will keep your customers coming back, create that content, distribute it online, and measure the results, with hands-on, step-by-step guidance.
Content marketing is an essential element of successful online marketing and brand-building; this book shows you how to begin creating and distributing content online to market your business
Explains why content marketing is important and how to create an online content marketing strategy, which tools to use, and what to avoid
Shows how to create content and get it published online in long or short form
Offers plenty of tips, case studies, and worksheets to ensure success
Online content marketing positions your business and your product for lasting customer interaction; Content Marketing For Dummies gives you the tools to create a program that works."  read reviews online…
Do you have a book or know of a book you believe should be on this list? Tell us!