On the desert sand or along muddy, rugged and demanding trails, the key to a reliable shot is that essential three-legged piece of hardware.
A tripod comes in handy for producing fluid, high-quality shots. But with so many types of tripods available, it can be a challenge to choose the right one for your needs. For instance, capturing the details of moving ATV tires while panning with a tripod or the steadiness of shot required for a ulra-zoom shot of flower petal each require different strategies and a specific tripod for the job.
Here, we explore the three most basic types of tripods used for filming:
Travel Tripod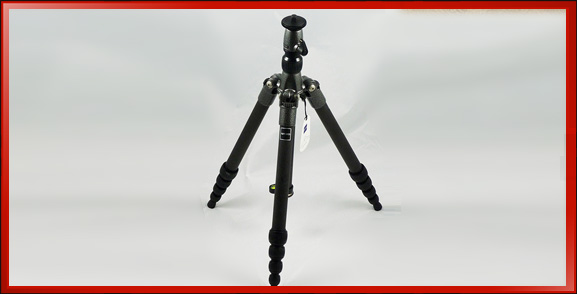 Travel tripods offer a lightweight form factor that lessens both payload weights and carrying fatigue while offering much of the functionality of a full-size tripod.
In a pinch, for a video DSLR shooter, a tripod such as the Manfrotto Compact Tripod can be stored in a backpack and brought along. It won't be great for panning, but it will offer a stable, levelled off shot. And yes, it can pan – unlike most photo-only compact tripods!
These tripods can collapse to as little as 36cm (14 inches) in height and extend up to 131cm (51 inches), making them perfect for on-scene shoots where compact travel is an absolute must. Like their larger counterparts, travel tripods range widely in price, from as little as $150 to as much as $700 for professional-grade models with carbon-fiber construction and high-quality components.
Medium-Duty & Professional Tripods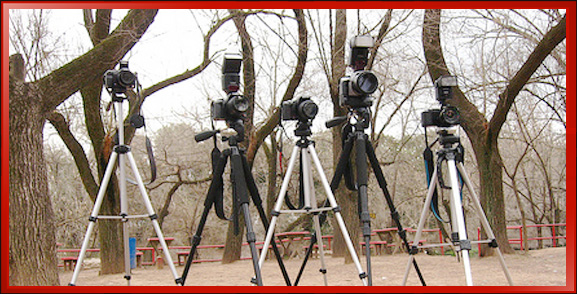 These are the most common types of tripods you're likely to work with out in the field.
These tripods are generally heavier and sturdier than their lightweight travel-oriented counterparts, offering a greater measure of stability for still shots and motions requiring a great degree of precision. Medium-duty tripods are mostly made from a combination of steel, plastic and aluminum, although the latest tripods feature carbon-fiber construction for lighter weight. Most medium-duty tripods of reasonably high quality retail for $400 to $750, although budget models can be found at cheaper prices.
Professional-grade tripods offer an even greater degree of durability and build quality along with trick features such as a ground level set, but at a steep price. It's not uncommon to spend anywhere from $700 to $5,000 on a professional tripod.  The Acadalus CPS-H1 Self-Leveling Camera Head and you'll have a tripod setup that easily surpasses the $5K mark! Yikes.
Our Recommended and Favorite Tripod
Fortunately, you don't have to shoot for the most expensive tripod just to get the results you want. As professional photographer Dr. Robert Berdan notes, you should buy the best tripod that your budget permits and base your purchase on how heavy your camera and lens weighs and how much you're willing to carry in terms of gear.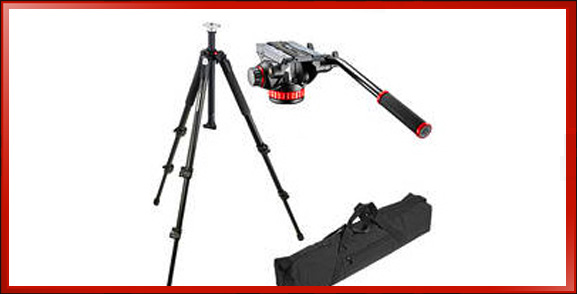 Which is the Reel Designer tripod of choice? The Manfrotto brand is our favourite – it's solid line suits the beginner to professional and everyone in between. A tripod consisting of Manfrotto 'sticks' (legs) and a Manfrotto 'head' (the top part) will be a rock solid choice.
The Manfrotto Compact Action tripod that offers smooth pan and tilt functions. Be sure to get a smartphone or tablet mount if shooting with those devices.

This is a portable, high quality tripod. It will work with smartphones and high-end production cameras. Great bag too!

Heavy duty tripod. It can handle a light-weight "backpacker crane" jib system! Included spreader with the legs also supports more weight.
Weight: 921g
Minimum Height: 36cm
Maximum Height: 131cm
Payload (Camera): 1.5kg
Weight: 3.4kg
Minimum Height: 41cm
Maximum Height: 140cm
Payload (Camera): 5kg
Weight: 3.1kg
Minimum Height: 67cm
Maximum Height: 154cm
Payload (Camera): 5kg
For the casual beginner, a Manfrotto Compact Tripod is a good buy – sure, it'll hold the camera in place. But if you want to pan, tilt and have a safe and sturdy place for a true video production, hands down, we recommend the Manfrotto Fluid Head with a Heavy Duty Head. Thistripod can level, it's by the world-leaders Manfrotto (an Italian company.. without the Ferrari price) and an industry standard for DSLR and Professional video filmmakers.
Monopods
Function with a smaller video camera. Monopods also offer extraordinarily smooth movements that approach those of professional Steadicam rigs, making them great for shots requiring fluid motion.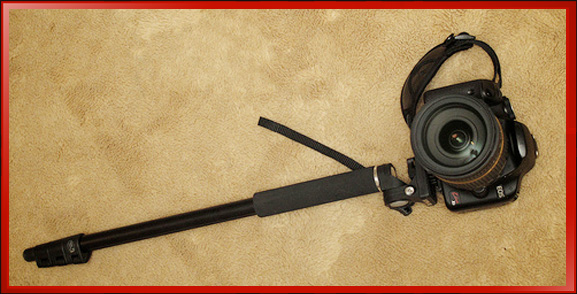 Function with a smaller video camera. Monopods also offer extraordinarily smooth movements that approach those of professional Steadicam rigs, making them great for shots requiring fluid motion.
Check out the wonderful Manfrotto Monopod – it's only 56cm (22 inches) when closed! And at full height, it is about eye-level for most people at 180cm (71 inches).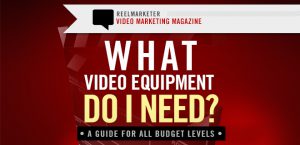 Monopods like these really do collapse into a compact form for easier carrying, and offer stability far beyond a hand held shot.
Well worth purchasing, especially if you're likely to be using a zoom lens and you're on the go.
What's your favourite tripod? Post your comment below!
Related Reading: What Video Gear Do I Need?