Professional-looking great quality video can be shot on the iPhone handheld. The iPhone (and iPads and iPods) are truly the 'smart device' of them all. These iOS pocket-sized computers do almost everything – and they get better with the right equipment!

Coupled with some basic (or advanced) video production gear, an iOS device is a truly powerful production tool. Burberry created an advertisement filmed entirely using iPhones – and some gear similar to what you'll find on this page here – incredible:
That's what this iPhone Video Creator accessory guide is all about – the best gear to make your iPhone an effective all-in-one video camera & editing platform.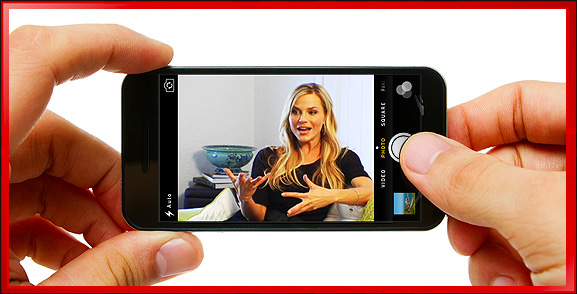 The iPhones shoot great high resolution video at the 4K and 1080P HD video standards. The iOS device in your hand and on the go is the ideal platform for a novice video producer – the camera and image is top-notch, you can control the sound levels, and the editing software is robust – and the entire process can be done all within the palm of your hand!
The iPhone, iPad and iPod Touch are all more than capable in producing incredible video, when used properly:
1. iPhone Video Stands, Tripods & Adapters
Dot Line Smartphone Tripod Mount
https://www.reeldesigner.com/dot_line_smartphone_mount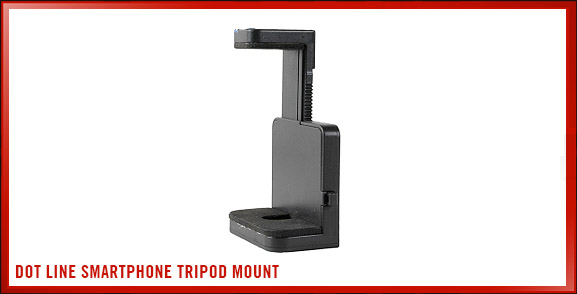 The Smartphone Tripod Mount from Dot Line is a tripod mount for just about any smartphone on the market, featuring jaws with an adjustable width.
The mount has pads on the top and bottom of the jaws to prevent scratches and allow for a strong hold. On the side is a button that allows for quick removal of your phone. The bottom of the mount is outfitted with a 1/4″-20 female thread for compatibility with most standard tripods.
2. iPhone Video Handheld Shooting Rigs
alm Filmmaker Pro Pack With mCAMLITE for iPhone 5
https://www.reeldesigner.com/alm_filmmaker_pro_pack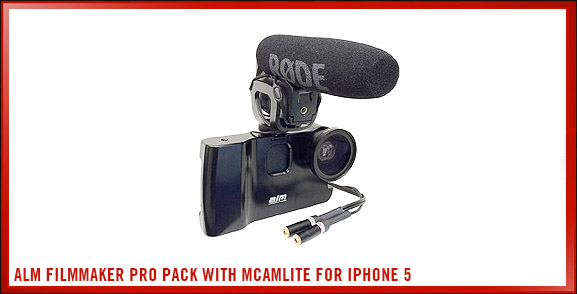 Designed for the mobile film maker, the ALM Filmmaker Pro Pack With mCAMLITE for iPhone 5 provides a great way to record video using your iPhone 5.
The ALM Filmmaker kit provides you with a mCAMLITE mount with wide angle/macro combo lens, Rode VideoPro microphone and an ALM mic adapter with audio output so you can playback audio feeds without unplugging the mic adapter!
Steadicam Smoothee for iPhone
https://www.reeldesigner.com/stedicam_smoothee_iphone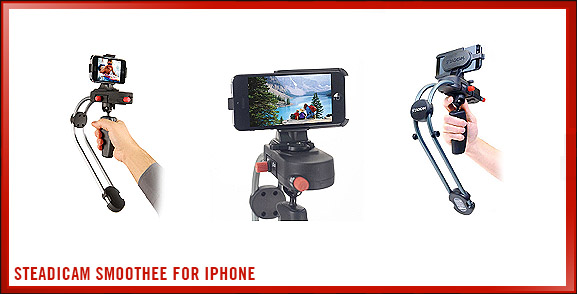 The Steadicam Smoothee for iPhone makes the same technology found on expensive Hollywood Steadicam rigs and shrinks it down to the perfect size for home and vacation use.
Simply snap your iPhone into the specially designed mount, grip the handle, and float your camera smoothly and effortlessly through the air. Fly up steps, through crowds, across fields, down sidewalks–wherever your legs can take you. And when you need to catch your breath and set the camera down, the quick-release mount doubles as a tabletop stand or tripod mount. So if you've always wanted to use the tiniest of electronics to recreate your favorite moments from Rocky, The Shining, and Goodfellas, now you finally can. (Boxers, gangsters, and homicidal novelists must be purchased separately.)
Dot Line iPhone Pod Kit With LED Light
https://www.reeldesigner.com/dot_line_iphone_pod_kit_led_light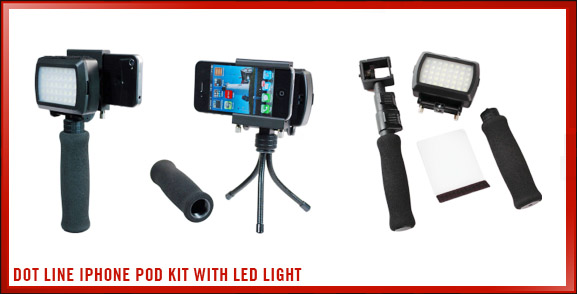 The iPhone Pod Kit With LED from Dot Line features a bright 5600K LED and a grip handle for your iPhone 4 or 4S. The grip handle features a 1/4-20 female thread on top and a 1/4-20 male thread on the bottom.
The LED and extension handle are designed for use with both the front- and rear-facing cameras. The grip handle serves as a monopod and is easy to hold for extended periods of time and transforms into a tabletop tripod, perfect for self-portraits and extra stability. Also included is an extension arm The iPhone mount features a protective backing to avoid scratching the device and provides access to all functions. The LED provides a fill light for your photos and features 40 bright LEDs (5600K) and is powered by 6 easy to find AAA batteries.
3. iPhone Video Lighting Solutions

Stellar Lighting Systems Versa-Pack Smartphone Lighting Kit
https://www.reeldesigner.com/versa_pack_smartphone_lighting_kit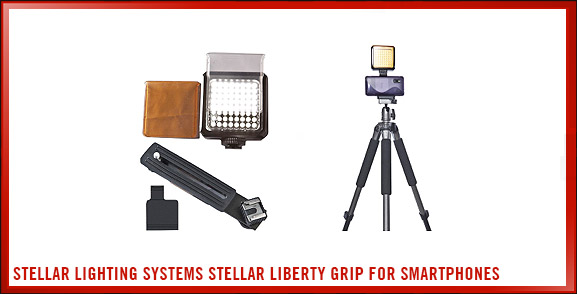 The Versa-Pack Smartphone Lighting Kit from Stellar Lighting offers great value at a competitive price point. The light and smartphone adapter can be mounted to any tripod to enhance your photos and videos.
The adjustable bracket fits most smartphones, while a straight bar allows for a variety of configurations. The light is equipped with 64 LEDs that output 400 lumens for high brightness. There are two brightness settings to allow flexibility for variable lighting conditions. The light is daylight balanced, and tungsten and diffusion filters are included in the kit. The kit is easy to use, featuring an expandable modular design that makes it easy to attach to a shoe mount. An added benefit is that the light is battery powered, allowing for maximum portability.
Bescor LED-21 18 Watt Self Powered Smart Phone Light
https://www.reeldesigner.com/self_powered_smart_phone_light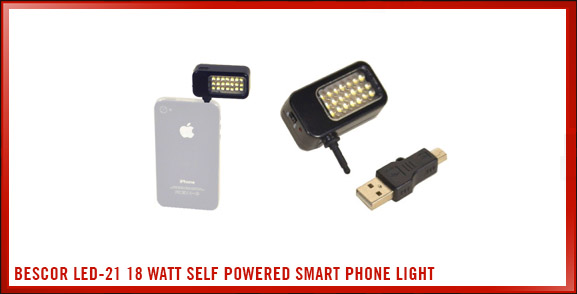 The LED-21 18 Watt Self Powered Smart Phone Light by Bescor is a great way to maximize your smartphone's flash capability, especially when taking numerous photos or photos of groups or large areas.
With over six times the power of your phone's LEDs, the LED 21 is not only up to the task but provides 60 minutes of light on a 1.5 hour USB charge, while eliminating drain on the phone's battery. The LED-21 works with an iPod, iPad or any other device equipped with a standard headphone jack.
4. iPhone Video Audio Recording Solutions

alm External Mounted 180° Rotational Microphone
https://www.reeldesigner.com/alm_external_rotational_mic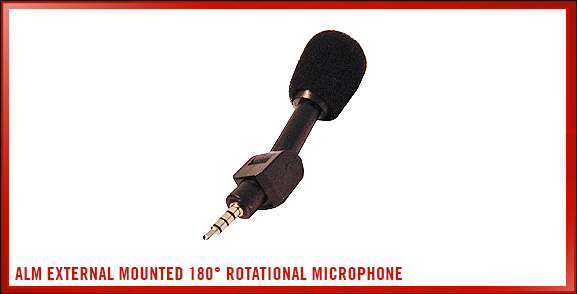 The External Mounted 180° Rotational Microphone from ALM is a rotating mic that works with most smartphones or MP3 players with a 3.5mm 4-pin jack like the iPhone, iPod touch 2G, and iPad.
This mic has a gold-plated tip for superior signal transfer and has a wide frequency range. It is identical to the mic that comes with ALM's Bubo kits. This mic offers an ideal way to record interviews, lectures, voice memos and more.
Tascam iM2 Stereo Microphone for Apple iOS Products
https://www.reeldesigner.com/tascam_im2_stereo_mic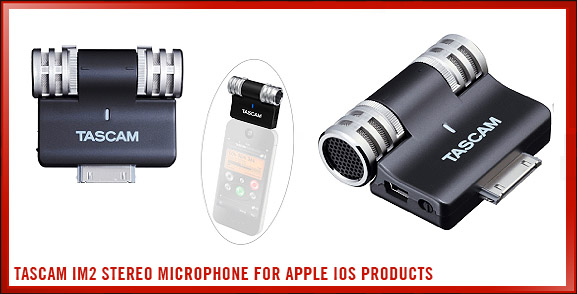 While there are many apps that enable recording using an iPhone, iPod touch or iPad, Tascam's iM2 Stereo Microphone for Apple iOS Products provides you with an external pair of condenser microphones that plug into the dock connector of your chosen device. The iM2 has several recording features that make it easy to use and allow for superb audio recordings — while its compact size means it can tag along pretty much anywhere you go.
For the best sound placement, the microphones can be adjusted 180 degrees from front to back. The uni-directional elements are arranged in an AB pattern for detailed stereo imaging while capturing the ambiance of the recording room. The iM2 has its own microphone pre-amp and analog to digital converter for low noise and exceptional sound quality. The unit can handle up to 125 dB sound levels for capturing varied noise levels without distorting the sound. The iM2 also has a stereo limiter to subdue loud bursts of sound.
A knob on the side adjusts the microphone level for quick adjustments. While it's powered by your device, it has a USB input so that you can charge your device through a computer or power adapter to avoid cutting off extended recordings due to a drained battery. Whether you're recording live audio, writing songs using the help of an app, recording during rehearsals or gathering sound effects for productions or remixes, the iM2 is both useful and affordable.
IK Multimedia iRig Mic Cast Voice Recorder
https://www.reeldesigner.com/irig_mic_cast_voice_recorder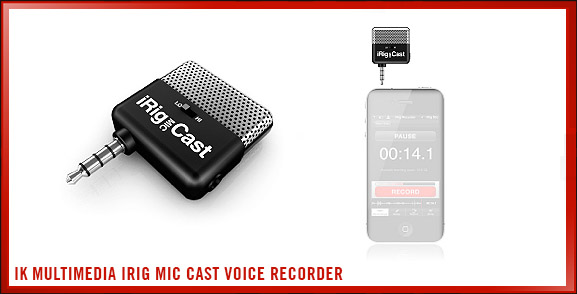 The iRig Mic Cast Voice Recorder from IK Multimedia is a convenient pocket-sized recorder for the iPod Touch, iPhone, and iPad.
The microphone provides clear sound and a tight unidirectional design which minimizes background noise. Additionally, the recorder features a convenient switch to change the recorder's sensitivity for close-up or distant sources as well as a headphone jack so you can easily monitor what is being recorded. The recorder is designed to fit over most skins and comes with an adjustable desktop stand for better positioning during recording.
Sennheiser HD 201 – Circumaural Closed-Back Dynamic Stereo Headphones
https://www.reeldesigner.com/sennheiser_hd_201_dynamic_headphones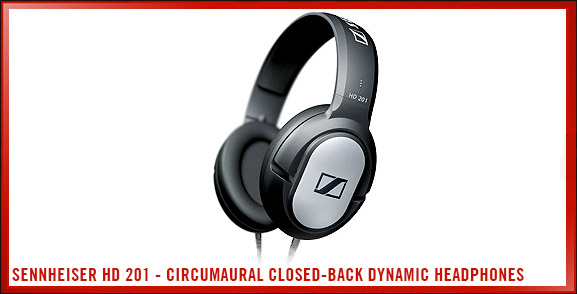 The Sennheiser HD 201 is a low-cost, lightweight set of stereo headphones for mini-Hi-Fi or PC music and gaming monitoring purposes.
These headphones feature a circumaural, closed back design with extra ambient noise attenuation, comfortable, durable leatherette earpads, and an extended low frequency reproduction.
4-pole TRRS 3.5mm Mini to XLR Jack & Stereo 3.5mm Mini Jack Adapter
https://www.reeldesigner.com/4_pole_TRRS_3.5mm_to_XLR_adapater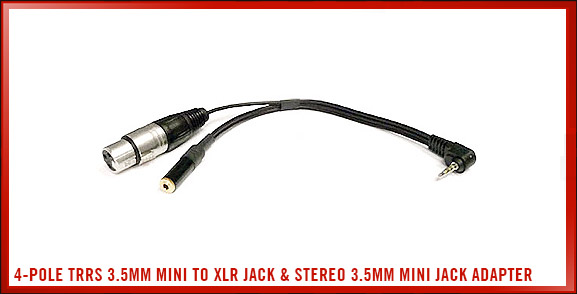 The Comprehensive Premium 4-pole TRRS 3.5mm Mini Plug to XLR Jack and Stereo 3.5mm Mini Jack Audio Adapter is a nickel finish audio adapter cable with a molded connector. It allows connecting a standard microphone with XLR connectors to an iPhone or other compatible device for quality recording.
It also provides a 3.5mm TRS stereo (audio out/headphone) jack for audio playback to standard headphones, speakers or audio input to other devices. It incorporates passive components which provide impedance matching and DC blocking; allowing a wide variety of microphones to be used with the device. This adapter is the perfect solution for interfacing a phone with a quality microphone for recording or production. This adapter is used for interfacing the iPhone with headphones and/or using a quality microphone for recording or production.
Sescom 6′ (182.9 cm) iAdapt iPhone/iPod/iPad TRRS Plug to TRRS Jack Adapter
https://www.reeldesigner.com/sescom_iadapt_TRRS_plug_adapter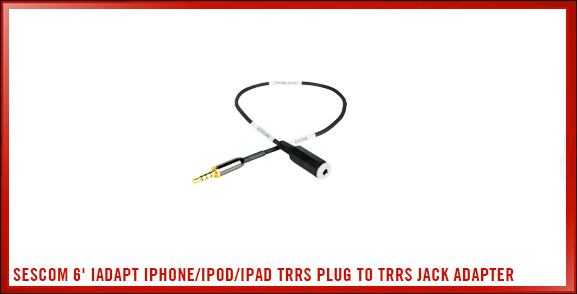 The Sescom 6′ (182.9 cm) iAdapt iPhone/iPod/iPad TRRS Plug to TRRS Jack Adapter Cable is a short extension adapter cable that allows larger diameter plugs from a standard 3.5mm TRS or 3.5mm TRRS accessory to connect with your iPad, iPod or iPhone through a smaller case hole that requires an 8mm O.D. plug to fit.
This adapter cable works with many cases that have a smaller headphone/mic interface. The iAdapt was designed with shielded audio cable and it affords clear passage of left and right stereo audio, as well as microphone input audio. The cable also reduces the wear and tear that inevitably occurs from repeatedly plugging and unplugging cables into and out of your iPad, iPhone and iPod headphone/mic-in jack.
5. iPhone Video Lenses & Filter Options

olloclip 3-in-1 Lens System for iPhone 5
olloclip 3-in-1 Lens System for iPhone

The black 3-in-1 Lens System for iPhone 5 from Olloclip is a lens system for an iPhone 5 that includes a fisheye, wide angle and macro lens to allow you to capture enhanced images and video. It connects to your iPhone in just a few seconds, and you can switch lenses simply by flipping it over.
iPro Lens by Schneider Optics Pro Classic Duo Kit for iPhone
https://www.reeldesigner.com/ipro_lens_schneider_optics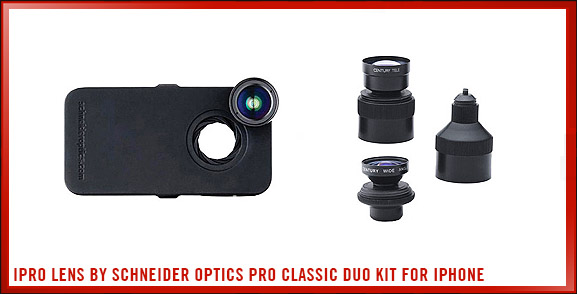 While many software applications allow you to customize photos captured with the built-in camera on an iPhone 4/4S, the Pro Classic Duo Kit for iPhone 4/4S from Schneider Optics is an external lens system that allows you to do just that while you're shooting images or videos.
First, the kit includes a case that snaps onto your phone. Then, you can attach either the wide-angle or telephoto lens to the case with a twist. Each lens uses a bayonet mount to securely fasten onto the case. Using these external lenses, you can shoot images and video with a wider angle of view and 2x macro capability.
Also included is a handle that allows you to get a steady hold on your phone while shooting. It can be attached to either the right or left side of the phone case. When you're not using them, you can store the lenses inside the handle. Or, you can mount the handle to a tripod for added stability. A lens cap is also provided that fits any of the iPro lenses.
Smart-Pro Circular Polarizer for iPhone, iPad, Smartphones
https://www.reeldesigner.com/iphone_bw_smart_pro_circular_polarizer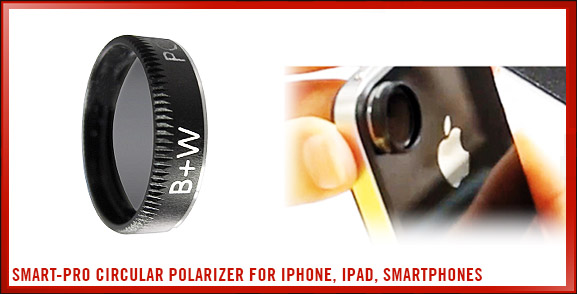 The Smart-Pro Circular Polarizer from Schneider Optics is a circular polarizing filter that mounts to an iPhone, iPad, smartphone or tablet PC. It also works on all small camera lenses with a maximum diameter of 8mm. Once affixed to your device, the filter eliminates reflections and provides saturated, intense colors as well as an improved contrast ratio.
The filter system is also easy to use — simply fit the small magnetic ring around the lens on your device. The filter can then be attached and easily aligned. While there are many apps and software to create special effects, this particular effect can't be simulated in this way. This filter is ideal for those who want an alternative to creating special effects through apps when using the built-in camera on their smartphone or tablet.
Digital King Magnet Mount Conversion Wide Angle & Macro Lens for iPhone
https://www.reeldesigner.com/iphone_magnet_wide_angle_macro_lens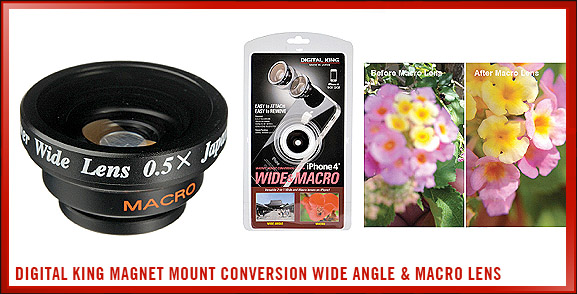 If you're looking for an affordable way to enhance the capabilities of the built-in camera on your iPhone 4/4S or 5, you're in luck. The Magnet Mount Conversion Wide Angle & Macro Lens from Digital King is a versatile 2-in-1 external lens that attaches to your phone to allow you to capture wide angle and macro shots.
The magnetic mount system employs a powerful yet iPhone-safe magnet for a secure attachment, and makes it easy to remove. The lens is manufactured using aluminum and highest-quality optical glass which ensures a higher refractive index, resulting in truer colors and higher resolution. A carrying pouch is included for maximum portability.
Kogeto Pitch Black Dot iCONIC iPhone 360° Camera Lens!
iPhone 5: https://www.reeldesigner.com/iphone5_360_degree_video
iPhone 4 / 4S: https://www.reeldesigner.com/iphone4_360_panaoramic_video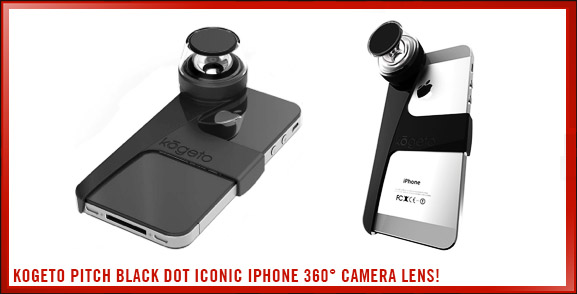 Shoot 360° Panoramic Video from the Palm of Your Hand!
The Kogeto Pitch Black Dot is a lightweight 360° iCONIC lens for your Apple iPhone 4 and iPhone 4S. It lets you shoot and share 360° video with your iPhone 4/4S.
It's a lightweight lens attachment that can be quickly and easily clipped onto your iPhone. Once attached, the durable and dependable Kogeto iCONIC lens works with your iPhone's HD video camera to capture full 360° video in one seamless shot. Plus, Kogeto offers the free Looker App on their website, which allows you to watch the 360° panoramic video right on your iPhone 4/4S LCD touch screen display. You can even swipe the screen to spin the video angle around the full 360° field of view.
The Looker App also makes it easy to share your immersive 360° video clips with friends and family on Facebook, Twitter or even the Kogeto website.
Bonus: iPhone Video Miscellaneous Accessories
Prompter People Ultralight iPhone / iPod touch Teleprompter
https://www.reeldesigner.com/iphone_teleprompter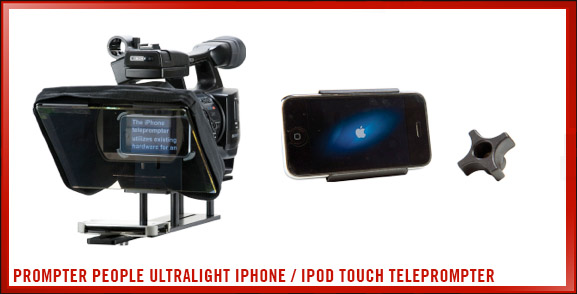 The Prompter People Ultralight iPhone / iPod touch Teleprompter allows you to use an iPhone / iPod (not included) for teleprompting. With an optional adapter you can also use an iPad (not included). It is easily readable at a distance of over 8′. The unit is upgradeable to an 8″ LCD prompter.
Pico Dolly Camera Table Dolly
https://www.reeldesigner.com/picco_camera_table_dolly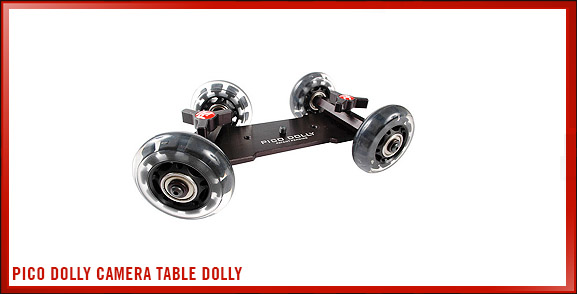 The Pico Dolly Camera Table Dolly from Pico Dolly is a simple, affordable dolly for capturing dynamic shots with small camcorders and any other type of video-enabled camera, such as a DSLR, mirrorless, or point & shoot model. Perfect for table-top use or low-angle shots, the Pico Dolly adds that crucial element for making otherwise static shots compelling: smooth motion.
The 3.5″-wide dolly has a sturdy aluminum chassis that supports two adjustable axles. Their orientation can be modified (via thumbscrews) to let you adjust the arc of the Pico Dolly's movement. The dolly can move straight, along broad curves, or in complete circles for 360° shots.
If your budget is nill, then iPhone really does a decent job as a video camera and editing studio.
Here is another "behind the scenes" of a TV advertisement – this one shown at the Superbowl – all shot on iPhones!