For video production, different budgets fit different needs. While it's true more money will lead to a higher quality product, costs have come down dramatically over the past decade. In fact, prices have dropped so much that you can now shoot a professional video on a very low budget.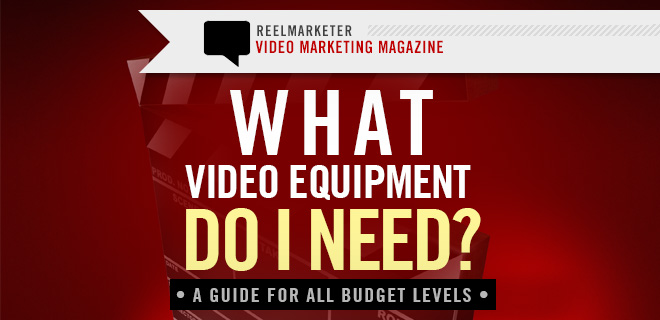 Here, we've answered the question "What video equipment do I need?".
Below you'll find a selection of camera, audio, lighting and editing gear that will form your base kit. To make it easier, we've divided video kits into three main categories based on your spending budget: Low, Medium and High.

Low Budget ($0 – $2000) – Low budget is not what it was in the past. With very little expense, you can create an attractive, professional-looking video using the tools you have complimented with a few relatively inexpensive pieces.

Medium Budget ($4000 – $7000) – With a reasonable expenditure of money, you can add an entrance level camera and increase the quality of your other equipment in order to create a promotional or advertising video that will provide a solid return on your investment.

High Budget ($10,000 – $15,000) – This is the most you'll need to spend in order to achieve a high quality, professional video. You can spend more of specialty items for different effects, but this is your base kit for a higher end promotional video.
VIDEO CAMERA OPTIONS FOR ANY BUDGET
A camera that records video is the main piece of equipment you need for live-action video production. The ability to record video in HD (High Definition) resolution is a standard of all modern cameras, including the iPhone 6s and above, which can record in 4K (or Ultra-High Definition). If you film in the highest resolution possible you are 'future-proofing' your video as it will not look as dated in a few years as it might if you film with a lower resolution.
There are two types of camera. One has an interchangeable-lens (DSLR). The other is a camera with a built-in lens. The main advantage of a built-in lens is that it's less hassle and easier to use, especially when you're just starting out.  But of course a DSLR camera will give you the ability to change lenses so you can create more dynamic images depending on the lens you opt to use (see "Lenses" below).
iPhone X, 8,7 and 6s film high-quality
4K and is a video production studio


in your hand with apps.

The Canon VIXIA is simple and
cheap with a built-in lens.
The Canon Rebel T5 offers
lens interchangeability, but i
s more complex to learn.
Both Panasonic Cameras film in 4K
(Ultra-High Definition). The
Lumix GH4 has interchangeable lenses
like a DSLR. The X1000 has a
built-in lens and will be easier to use.

Beyond camera resolution, your choice really comes down to price. It's also important to choose a camera that you can plug a microphone into, as audio is just as important as video. All the camera options listed have audio input jacks.
You might also like:
TRIPODS FOR VIDEO PRODUCTION
Using a tripod is necessary to get a clean image. The tripod avoids shake and makes the video image very stable and level . A tripod does more than just support a camera. It allows you as the camera operator to frame the image as you wish.

What you should look for in a tripod is its ability to pan left-right and tilt up-down smoothly. The quality of the tripod is usually the distinguishing factor.
| | | |
| --- | --- | --- |
| | | |
| | | |
| The Manfrotto Compact Action tripod offers basic adjustment. Be sure to get a smartphone or tablet mount if shooting with those devices. Not useful to pan or tilt with though. | This is a portable, high quality tripod. It will work with smartphones and high-end production cameras. Very smooth pans and tilts. Great bag too! | This is a high-quality, heavy duty tripod. It can handle a light-weight "backpacker crane" jib system! Included spreader with the legs also supports more weight. |

A higher quality tripod will generally create a higher quality image. The Manfrotto is the budget model and it's recommended to not go lower than this. Your video's quality will likely suffer with anything less.
You might also like:
VIDEO EDITING HARDWARE OPTIONS
Apple products are your best option due to their ease of use and value when coupled with their powerful editing software. Any newer Apple computer can edit basic HD video – even a Mac Mini can edit 4K video with iMovie or Final Cut Pro. In fact, there's even a variant of iMovie available for iPhones and iPads, and it's powerful enough to edit 4K!
If any computer can edit video these days, why spend more for a higher end model? Fewer limitations with speed and storage make a difference, especially with video post-production, which is inherently a very processor-intensive task for a computer and uses a lot of storage space. The iMac or the MacBook Pro are great choices!
| | | |
| --- | --- | --- |
| | | |
| | | |
| Use the iMovie app on the iOS device ( iPhone | iPad | iPod Touch ) you filmed on. Edit with iMovie App for iOS device – no need for a computer! | A portable, yet fully capable workstation, the 'Pro' line of Mac Books offer power and storage. Get an external USB hard drive for the video files. | A high-end desktop computer with performance to rival the higher end Mac Pro. iMac has excellent power and value for the price. |

You might also like:
MICROPHONES FOR RECORDING VIDEO AUDIO
Good audio is crucial for video. Viewers will stop watching your video if the audio is poor. Thankfully, most cameras (and all the ones suggested) have the ability to record audio using an external microphone.
There are two options for external microphones for video production, a lavalier microphone (that clips onto the on-screen subject being recorded) and a directional 'shot-gun' microphone, which picks up the sound from whatever it is being pointed at.

The purpose of all microphones is to be really good at picking up sound – a microphone will always need to be plugged into a video camera (or audio recorder) for the audio to be recorded.
You might also like:
CAMERA LENSES FOR VIDEO PRODUCTION
An adage among photographers says that the best camera is the one you have with you – with camera lens options; you can expand the choices you have. Lenses enable you to capture a certain aspect of life, either very close up, portrait (similar to how our eyes see the world), and finally ultra-wide. Various lens options exist for every model of camera, including iPhones and iPads (which use an adapter or a case to mount the lens). Built-in lenses are good general purpose lenses – mounted lenses can either made the image more zoomed in, or wider-angle. For the professional video marketer, purchasing more expensive lenses will produce even finer-looking image.

You might also like:
LIGHTING GEAR FOR VIDEO PRODUCTION
Lighting, like sound, separates high-quality from the low-quality video and the 'three-point lighting' setup is the benchmark.  
While on-camera lights common and inexpensive, they are best for documentary-style videos, not for professional looking promotional and advertising videos. Your budget will help determine your lighting kit.
For the medium and high budges, the choice between 'tungsten' (traditional filament lighting) and LED (light-emitting-diode lighting) is chiefly dependant on budget. Tungsten bulbs are bright, but run very hot to the touch, and require more energy, but are far less expensive than LED options right now. LEDs are cool, require less power, but typically aren't as bright and cost far more right now. You can't go wrong with either choice.
You might also like:
HEADPHONE OPTIONS FOR VIDEO PRODUCTION
In order to get great audio, you need to monitor the sound as you're filming. A decent set of headphones can make all the difference and save you the pain of having to schedule a reshoot because you were unable to hear an issue when doing an initial filming.
Over-the-ear headphones are important as they help block out background noise when filming on location and you can easily take them off and on and share them with others (unlike ear buds).