Great to be sitting down with you! For those who've not heard of your company yet, what is Virool?
VIROOL: There are over a million videos being uploaded to YouTube every day and with 95% of them getting less than 1,000 views. No matter how funny, appealing or viral your video is, it's not going to go viral unless enough people discover your video and begin sharing it. That's where Virool comes in.
Virool helps anyone with a video to get noticed.
We help people with appealing content (brands, musicians, movie studios, independent producers) jumpstart their promotion with exposing their videos to the right audience.
Virool has a tagline 'video views guaranteed' – how does Virool work overall?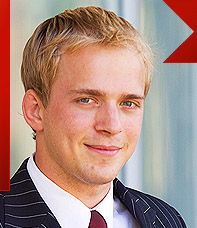 VIROOL: Virool is not in the business of selling views, we are selling engagement. Our value add is that we allow advertisers to reach exactly the people they want in the places of the world that they need. For example, if you are a rap artist and would like to reach 1M males between 18-30 interested in hip-hop in the United States with your video, Virool can help you do that.
The way it works is we extract important user information from apps that we have partnered with on Facebook and mobile. This approach has allowed advertisers to target their desired audience based on: age, gender, interests, pages they like on Facebook and their location. In exchange, viewers are being served videos that are more relevant to them.
The biggest thing about Virool's company culture is that we are very transparent and honest. This translates to our customers, where we only charge them after someone watched their video for at least 1 minute, a level of accountability not typical for our industry. Moreover, our advertisers are able to see analytics and know who is watching their video and where in real-time.
What does a Virool Advertiser do?
VIROOL: Virool advertisers are: well established brands, musicians, movie producers, game developers, small & medium sized businesses. Our platform can be used by anyone who needs their video promoted on the web, from Sephora to a small artist.
The experience for the advertisers is simple.
They register in our system, input a link to their YouTube video, set their budget and targeting preferences, deposit money into their account and start the campaign. The moment they hit the run button, the campaign is live and their video is being promoted on the web. It literally takes less than 3 minutes to start getting a video promoted on the web with Virool.
After that, they can track their video analytics and control spending in real-time.
What does a Virool Publisher do?
VIROOL: We have built an API (application programming interface) that any app developer on Facebook, iOS, Android or blog can plug in and start monetizing their property with. The beauty of this approach is that it allows developers to make Virool videos a native part of the gameplay experience. We have seen games that would show our videos in-between levels, in exchange for virtual currency or even part of the game itself (see screenshot attached).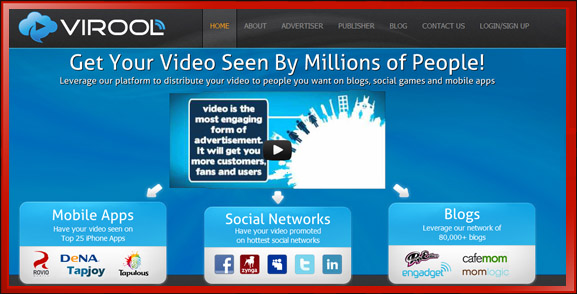 The great thing about our API is that developers have full control over the length of the videos they want to show, the type and the payout. For us and advertisers, it means far more engaging experience for the viewer and much better targeting.
What is it that makes video so addictive?
VIROOL: Unlike other forms of online advertisement (banner ads, cpc, etc.), people who watch videos do not have banner blinds and have much higher brand recall rate. Video forces them to engage with the product, service that's being advertised. It's by far the most effective and engaging form of advertisement. For this very reason, online video advertising industry has been doubling for the last 3 years.
If the saying goes, "Picture is worth a thousand words", I would say, "A video is worth a million".
Is this compatible with YouTube, and videos a small-time producer creates? Or/and large companies too?
VIROOL: Campaign on our platform start at $10 and to-date we have promoted thousands of videos from small time producers to some of the world's most renowned brands. 95% of the videos promoted on Virool are being hosted on YouTube.
VIROOL looks like it'll work best with videos of a VIRAL nature – what are the top 5 tips you'd give a video advertiser to make a video go viral?
VIROOL: That's a question that begs such a detailed answer – here are my top top 5 tips!
1. Make sure your video is of viral content
We wrote a really good blog post about this in the past: Viral Video Tips. Basically, what it comes down to is to make sure your video adopts one of the viral styles.
Here are some of them:
Creates a "WTF?" Reaction – Kobe Bryant jumping over Aston Martin is a good example of a video that produces, "How did he do that? Is this for real" reaction at the end of it. As the title suggest he jumps over a moving car in the video and prompts the viewers to wonder whether this is real or not.
Videos with Tricks – Levi's Guys Jump into Jeans or Ray-Ban Guy Catches Glasses both are full of tricks. Both of videos are full of actors performing various tricks that keep viewers engaged and excited
Spoofs/Parodies – spoofs are becoming a global phenomenon with some of them getting more views than the original videos. Making spoofs on popular songs, other videos or any news story that recently happened gives videos a viral element.
Funny – humor is universal and everyone enjoys a video that can produce a good laugh. Just making your video funny isn't going to guarantee it being viral, but it will give it an edge that will want the viewers to watch it over and over.
2. Create a list of keywords
Once you have produced your video, you need to a create list of keywords that you want to target with your video. You can use Google's Keyword Traffic Estimator: to help you determine the most searched keywords for your niche. Remember, the more searched the keyword, the more competition it will have. I suggest focusing on long tail keywords (4-5 words) in order to get the highest quality traffic for your video.
Once you upload the video to YouTube, you can use the keywords you found in your title, description and tags. The longer and more descriptive your title is, the more of your desired audience will find it. So for example, instead of putting down "Beer in California", you can use the title "The Best Beer Brewery in San Francisco". The views you will receive will yield higher conversions for whichever product/service you are trying to promote.
3. Follow the Leader
After you came up with your list of keywords, go to YouTube and search videos that match them. Once the results are displayed click on the "sort by relevance" link and scroll down to "view count". This will sort out the videos with most views. Click on the video then proceed to click on the "more info" link. You should see the tags that the author of that video used. Copy those tags into your videos "tags" box. You should do this for as many videos as you like.
The more tags the better! YouTube will not show duplicate tags so they will weed out the duplicates for you.
This technique will help you get your video to show up in the "related video" section of the videos that are already getting lots of views for the keywords you want to target. This could easily mean hundreds if not thousands of targeted views for your video.
4. Commenting
Commenting on other people's videos can have a major impact on the amount of views your videos and profile receive. But the first thing you should do after uploading a video is be the first to comment on it! (yes, comment on your own video) This will encourage others to follow along.
I have not seen many bloggers or marketers do this but it can dramatically increase the amount of comments and ratings your video receives. Just saying something simple such as "Please tell me what you think… leave a comment" or "Give me some feedback… leave a comment and rate the video" can have a positive effect on your efforts. When commenting on other people's videos, I usually will try to find the one's with a large number of views or go the opposite direction and comment on the newest videos to make sure I'm the first.
5. Market The HELL out of your video with Social Media, Blogs and Forums
Once your video is live, you should be sharing it with your friends on Facebook, Twitter and other social networks you use. Then ask your friends to share your video for you. Yes! Message them and ask them to share it. Tweet to relevant people with your video and ask them to re-tweet it. Go to relevant forums and post it for people to see and ask for feedback.
Find blogs that you believe are relevant and find authors on those blogs that you believe would be interested in your video. Then write a short e-mail to them:
I hope this note finds you well. I recently produced a video that I believe would be interesting to you. Please do not write anything about the video until (set a date 3-5 days from the time you write the e-mail). Please let me know if you'd be interested in learning more, and I can follow up with a phone call. Thank you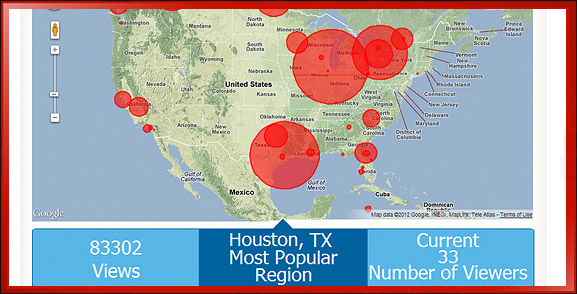 What are the key tips you'd give a publisher to PUSH a video to make it go viral?
VIROOL: Publishers in our network already have a number of players playing their games or using their apps, once they've integrated with Virool, they can start making money immediately. We pay all of our publishers weekly for the traffic that they deliver.
Our tip would be to create a high quality product and work with an Ad Network that has a comprehensive API (similar to Virool) that would allow them to monetize their property without comprising gameplay experience.
How hard or easy is it to start working with VIROOL as a producer?
VIROOL: As mentioned before, the whole process should take less than 3 minutes in order to get the video promoted on the web. Everything that producer needs to do is register on Virool.com, put in the link to a YouTube video, specify targeting and start the campaign.
Since you're trendsetting, any predictions for the future of video?
VIROOL: Great question! I'll break down into a few main points!
1. More Ad Spend Online – People are spending a lot less time engaging with traditional media: newspapers, TV, radio, and a lot more time engaging with their phones and computers. They now read blogs, spend time on Facebook and play games on their phones. This way we will see a huge rise in ad spend online rather than on traditional media.
2. Online Video Advertisement Will be More Accessible – The biggest problem with traditional TV advertising was that production cost was high and air time was expensive. Internet and modern technology changed that. Today, video production has almost become ubiquitous since anyone with an iPhone 4 can now shoot and edit a video. And companies like Virool allow anyone to start a video advertisement campaign for as little as $10. This is a drastic shift. In the past, a cheap local TV spot could have cost you $100,000 for video production and advertisement, whereas with Virool and iPhone same audience reach can end up costing you $1000 or less.
3. A rise in Augmented Reality – Projects like Google Glasses, that recognize real physical objects around you and provide solutions to your problems, will become mainstream. You wouldn't even have to check your phone to know the directions to a restaurant you are going for dinner, your glasses will tell you how to get there.
4. Video will become more Social – We got a sneak peek with Chatroullette, Facetime and SocialCam. This will become more mainstream. Not sure whether it's going to be Google Glasses that will allow two people to share what they are doing at the moment or some other device/app, but the idea of taking a video and sharing it with other people in real time is going to be big.
How can an advertiser or publisher get signed up with Virool today?
VIROOL: For advertisers, go to www. virool.com/advertiser and sign up to learn what we do! For publishers, sign up at www.virool.com/publisher