Welcome Jason! Please tell us about who are you are, and a bit about Tremor Video.
TREMOR VIDEO / JASON KREBS: Thanks for having me. I'm Jason Krebs, SVP/Chief Media Officer at Tremor Video. I have been with the company since 2010 when I joined as part of the ScanScout-Tremor Video merger. I've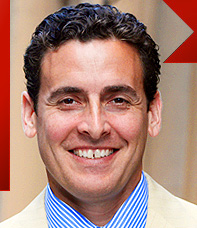 been engaged in driving interactive media and advertising sales and marketing for 17 years with several companies including ShortTail Media, Condé Nast and NYTimes.com.
Tremor Video's mission is to bring the certainty of science to the art of brand marketing. Put another way, we leverage our award-winning technology to help brand advertisers tap into the rich experience of online video, drive purchase intent and overall brand health, and provide industry-leading analytics and insights.
Tremor Video's Televisionary Manifesto is everywhere right now! For those who've not heard it yet, explain it for us, and what it's all about.
Jason Krebs: The Televisionary Manifesto is Tremor Video's rallying cry in creating a new vision for the rapidly blending worlds of TV and online video: a call for the end of their divisions, and for the start of an inclusive movement that combines TV's magic with the power of online video's interactivity and accountability in order to drive deeper, more relevant and immersive advertising experiences that lead to increased brand recall, consideration and purchase intent. Digital video is a powerful companion to what was formerly known as TV.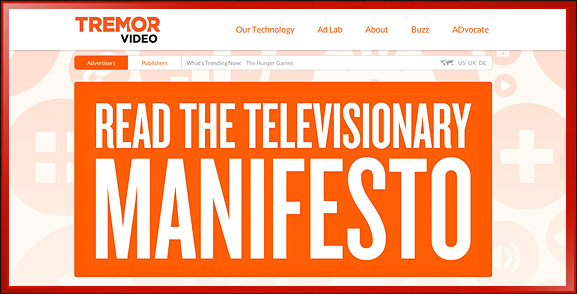 What technologies does Tremor Video's platform and network offer?
Jason Krebs: We are a pure play video company offering a number of technologies that facilitates the management, optimization and monetization of streaming video across four screens.
Our ad serving technology features standard pre-roll and progresses through enhanced pre-roll delivery with deep interactivity and engagement. This technology also guarantees delivery of ads in brand safe environments across a vast network of premium publishers, mobile devices and connected TVs.
Our mobile ad platform integrates with more than 75 applications on the iOS, Android and Blackberry platforms. It can deliver ad placements at app load and launch, within apps during page changes, and in-stream as pre-roll.
For publishers, we offer a robust set of tools that support the revenue delivery for 100% of their content. These tools simplify the management of in-stream video, consolidate ad management across any direct and third-party ad server and handle all the back-end heavy lifting.
It all comes together in VideoHub, Tremor Video's first-of-its-kind analytics and measurement platform for brands and publishers.
What factors really make online video successful?
Jason Krebs: Online video advertising is deeply engaging. It inspires viewers to lean forward and emulate the content viewing experience, which just isn't possible with a display ad. Online video further allows the advertiser to incorporate unique interactive elements into their ad creative, inspiring viewers to participate in the ad experience, driving higher brand recall, etc.
Online video is, additionally, really changing the way we interact with media. Before, the sight and sound of TV was confined to a single device in a single location. Now, video is watched everywhere: on the desktop computer, the laptop, the mobile phone and the tablet and soon any piece of glass. Online programming is also available on bigger screens via connected TV.
To the marketer new to online video, what does Tremor Video's solution offer over using YouTube for online video?
TREMOR VIDEO: For one, Tremor Video and YouTube are two very different companies. YouTube is a video destination that offers advertising opportunities against only its own property. We deliver ad messages across a network of hundreds of top tier publishers reaching a broad spectrum of target verticals.
Beyond that, Tremor Video's solutions offer deeper levels of ad engagement. For us, engagement is leaning in, touching the brand and spending time with the ad. Our super pre-roll interactive ad format, for example, takes a brand's existing pre-roll spot and integrates interactive overlay placements throughout it. This increases a viewer's time with the message, which, in turn, drives higher brand recall and purchase intent. Additionally, our cost-per-engagement (CPE) pricing model only charges advertisers when viewers engage with their ads. CPE guarantees brand lift while reducing risk for the advertiser.
Tremor Video also has proprietary targeting and optimization technologies that help ensure ad messages are delivered to viewers who are more likely to respond to them. We are also able to deliver ad messages across four screens (desktop, mobile, tablet and connected TV) ensuring advertisers reach their audience no matter how and where they view video.
How does VideoHub work? What does it do?
Jason Krebs: The VideoHub Platform is an end-to-end video operating and monetization system that aligns buyers and sellers across brand marketing goals. It is a solution set that offers a comprehensive approach to analyzing, monetizing and measuring the effectiveness of digital marketing strategies for both advertisers and publishers.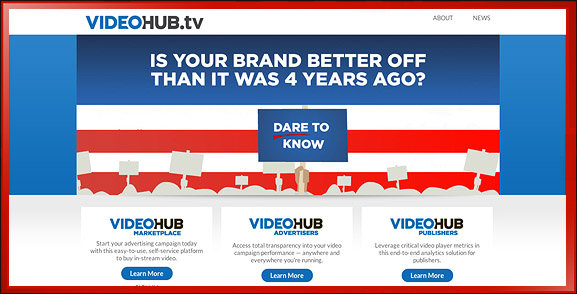 For advertisers, VideoHub monitors 14 critical variables in real-time and uses that data to adjust ad delivery matching content and viewers that, in turn, optimizes campaign performance. It focuses on ad effectiveness and everything that goes in to that output. Additionally, VideoHub supports brand safety by scanning the content of every video stream and filtering out objectionable content.
For publishers, VideoHub provides reporting and analytics tools that help them understand the factors that impact viewer tune-in which increases the value and size of their inventory. Additionally, the insights that publishers glean enable their native sales teams to more effectively sell at higher prices.
We have been working with marketers for years to understand the signals that underpin brand performance the way that Google works to develop the signals that underpin direct response. We think we're at the tipping point where we can work with agencies to help them track these signals across all their video media buying.
What is SE2 technology, and how does it empower customers?
Jason Krebs: SE2 has transformed into the VideoHub Server (VHS), and powers the VideoHub platform and Tremor Video's ad network. Its advanced targeting technology ensures viewers receive ads that are more relevant to them: ads for dog food are delivered to people whom very likely own dogs, for example. This kind of targeting drives increased viewer interaction and engagement with brand messages.
VHS, additionally, enables us to scan and categorize every single video stream before an ad is ever served, ensuring that we're delivering our brand partner's ads in 100% brand safe environments.
What is it that makes video such a desirable medium for online marketing today?
TREMOR VIDEO: Video consumption is growing. Every month the industry sets a new records for time spent with online video and the number of video ads served. Through our own research, we found that viewers are actually watching video while they're watching TV. The rise in tablets and mobile devices has actually led them to view content on both devices simultaneously. When this is happening, online video is a great complement to TV advertising. And when consumers actually engage with video ads, we've found a 4-8% increase in purchase intent lift.
What must-haves do you recommend to get a higher conversion rate from an online video view?
Jason Krebs: We don't necessarily look at things in terms of "conversion rate." At Tremor Video, we're more interested in identifying the brand health signals our client wants to improve, and optimizing toward those. It's difficult to name three "must-haves," because the campaign goals change from client to client, and creative has a huge impact on brand performance as well.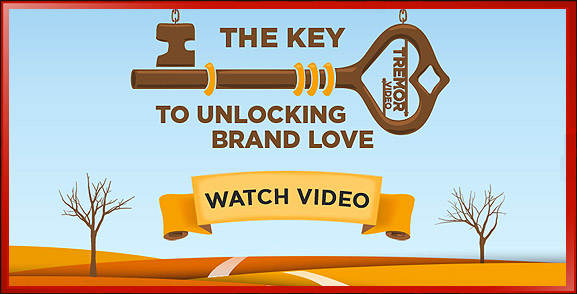 Is there any surprising aspect of video marketing that is in use today that wasn't foreseen a decade ago?
Jason Krebs: I think many advertisers are still surprised that they can buy video advertising on a CPE basis. Technology has evolved to the point where we can safely tell a buyer that if we don't reach an interested viewer, you don't pay us. We pay all of our publisher partners, but the buyer doesn't pay us unless there is an engagement with the overlay creative. We're seeing great results, and higher eCPMs than the marketplace.
Where can an agency or publisher explore Tremor Video's solutions today?
Jason Krebs: Our Ad Lab [http://www.tremorvideo.com/ad-lab/] is a great place to explore our video advertising technology, and to see some of the cutting edge uses of interactive elements that are developed by our in-house creative team. If you want to learn more about the analytics and optimization platform that powers the Tremor Video media network, they can visit http://videohub.tv/