Welcome! What is VFM Leonardo? Which industries do you cater to?
JOHN MCAULIFFE, VFM LEONARDO: VFM Leonardo is a technology and online media company. We provide e-marketers at hotel brands, management companies and hotel properties with technology, sales conversion tools and a global travel media network that enables them to better visually merchandise their hotels to millions of in-market travel shoppers.
In layman's terms, you offer content distribution for the hospitality industry, right? Why is imagery and media so effective and important for the hospitality market?
VFM LEONARDO: Technically speaking we offer content management and distribution services along with the appropriate software to support and enable these services. In simple terms – we enable hotel e-marketers to create visually compelling experiences that tell their hotels' stories to millions of in-market travel shoppers on the channels, devices and platforms they use to shop for hotels online.
Of all the content that shoppers use during the shopping journey, visual content is the most effective at providing them a true understanding of what the hotel has to offer and how it aligns with their needs.
Can you imagine booking a hotel without seeing what it looks like?
Probably not.
The more interactive the media is, the more effective it is at providing the consumer with the information they need. For example, Expedia ran a study showing that hotels with 15 or more images saw 3 times more bookings than those that had 5 or fewer images. We have run similar studies with the world's largest brands and noted that consumers who viewed video and 360 panoramic tours drove booking conversions of 150% and higher than those who didn't view this type of content.
Again it comes back to the story.
A story is more compelling and engaging with more visual content and the richer the better.
What are a few particularly effective media marketing strategies that hospitality properties/brands are investing in now?
VFM LEONARDO: Where consumers shop for,research, compare, buy and share travel products online continually evolves and at a rapid pace. Smart hoteliers realize this and constantly evolve their message and tell their story ways that differentiate them from the competition. They also look for and take advantage of ways to extend their story's reach beyond traditional travel websites – like social media and mobile devices.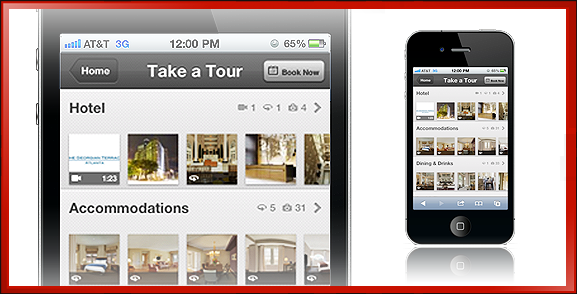 Social and mobile are two areas that today's hotel e-marketers are focused on.
Why?
1. Social.
Consumers are very good at sharing experiences online and these experiences contribute to the hotel's story.
Hoteliers are smart to curate user generated content (textual and visual) to amplify their story and use in their online marketing activities. Our customers find that incorporating multi-media, booking enabled Facebook apps help drive website referrals, direct bookings and engagement.
2. Mobile.
Google tells us that in the next year or two, half of all searches online will be performed on a mobile device.
Hoteliers are already seeing the impact of mobile on the consumer shopping journey. More so, mobile has accelerated multi-device shopping – be that simultaneous or sequentially.
Currently, our customers are seeing mobile (smartphone and tablet) accounting for 25+% of their website visits and consumers are doing much more than just booking on mobile – we see 50+% more engagement on mobile vs. standard websites when it comes to media engagement.
For the naysayer, how does video + photo media ultimately equate heads-in-beds?
VFM LEONARDO: Countless studies have validated the correlation between improved conversions and rich media and this is not exclusive to the travel industry; 52% of consumers say that watching product videos makes them more confident in their online purchase decisions according to Internet Retailer.
Online shopping can be nerve racking because you're making a purchase before even seeing the product for yourself.
This is especially true in the travel industry because (unlike a shirt or pair of pants), you can't return a trip. A shopper has to be confident with their booking and it's a hotelier's duty to create this feeling.
The best way to accomplish this is by providing an accurate and thorough view of the hotel, features, accommodations and amenities with a combination of good photography, 360 panoramas and professional video. Humans are visually driven and drawn towards appealing sites. When trying to imagine a hotel, there is nothing more powerful than true visuals of the location itself.
In fact, one our customers David Attardi, Director of E- Commerce, B.F Saul (Hampton Inn Dulles / Cascades) found they experienced a 30 per cent bump in bookings after launching video.
Showcasing your hotel's story with ample and rich visuals online is the key to driving 'heads-in-beds'.
Without investing in quality marketing media and an implementation strategy, what is a property or brand risking?
VFM LEONARDO: Quality is certainly a beneficial attribute that helps create an appealing sight for shoppers; however it does not just apply to the visuals alone. The story the media itself tells is just as important as the quality you deliver.
Marketers need to keep in mind the context and consider what is being shared with consumers. Having appealing visuals is one thing, but having them connect together to tell your story is what's truly powerful. Sharing your hotel's story so that consumers can imagine and relate to it is the key to sparking their interest and inspiration.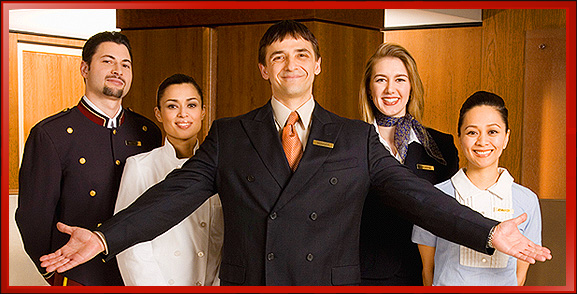 A marketing strategy is the second part to this duo. There is no point in creating all this rich media if nobody knows it exists. You need to develop a plan that will get you hotel's story out in the open where shoppers will see it. Create social media accounts, update them constantly, and encourage consumers to get involved by promoting these sites whenever possible.
What actions must hospitality brands implement today to stay ahead of each other in today's competitive marketing environment?

VFM LEONARDO: They need to tell compelling stories that differentiate their hotels from competitive alternatives in their respective markets; not just at the brand level but at the local hotel property level. When I say competitive alternatives, I include non-traditional hotels in the mix because with the rise of online retailers like Airbnb.com, consumers have much more choice for accommodations. These stories are best told through a combination of visual merchandising as well as consumer generated and collected content.
They need to recognize that the consumer shopping journey is complex and non linear; as such, they need to ensure their story is being amplified on both traditional and non-traditional travel websites. Hoteliers also need to recognize that consumers are shopping across different channels and devices, so focusing on mobile in particular is paramount to success.
They need to recognize that travel is essentially a social function. As humans we love to experience and share travel with friends, families and increasingly complete strangers. How to access these stories, curate them and amplify them through social media is again paramount to success for hotel e-marketers.
When guests use Travelocity, TripAdvisor and Orbitz to view media, what criterion in photographs and/or video are they using to make their choice?

VFM LEONARDO: The story told through the visuals should show the consumer how a stay at the hotel will enable a successful trip based on the criteria of what has motivated the trip. To help with this consider some questions that consumers will ask themselves while searching, like 'Does the hotel offer what I'm looking for?'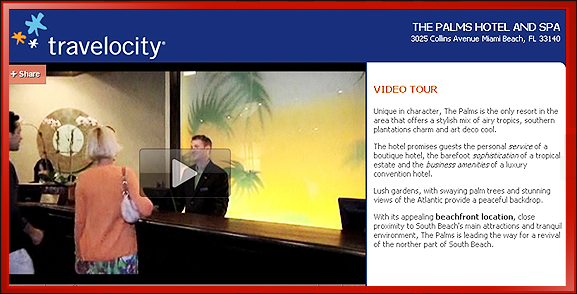 If the trip is for business reasons the question becomes, 'What does the hotel offer that will make my business trip successful?' They want to know about things like the business center or amenities that they may want to use after a day of business meetings. If the trip is a family vacation, they ask 'What are the elements of the hotel that are going to make for a successful family vacation?' and so on.
All this is to say that an hotelier needs to ensure the visuals being displayed on the travel website truly reflect the story of the hotel for its primary audience. Functionally speaking however, visuals should be able to tell the story in overarching themes -p erhaps using a video – and in great detail.
One thing I believe hotels could do a much better job of is showing the consumer what the room looks like – in photos and video walk through tours and sometimes 360s. Most hotels show a few photos that are representative of the rooms they have but consumers want to see the King Deluxe Room with Ocean View, not just a representative image.
I cannot stress how crucial a strong, compelling story is for hotel marketers.
You have to properly portray the hotel's story because shoppers book hotels that they believe are 'worth the price' based on what they see online and how it makes them feel.
Solutions to the needs of Hoteliers exist – tell us about VScape.
[embedit snippet="ad1″]VFM LEONARDO: We have different products and different levels of our products that we offer the appropriate solutions to hotel e-marketers whether they're at the hotel chain level, management company level or an individual property.
VScape is our enterprise solution and is a fully cloud based SaaS digital asset management system. It is used by hotel chains to primarily manage images on their brand websites and for distribution to a network of traditional travel websites and channels (like Global Distribution Systems and Online Travel Agencies) on behalf of their hotel properties. It provides easy control of thousands of media items from thousands of properties all in one system so that the chain e-marketer can both simplify the task of managing visual content and ensure the integrity and freshness of the content that is being displayed across thousands of websites.
We have recently expanded the capabilities of this product line to include media display technology that hotel chains can use to display all of their visual content on brand websites – for standard desktop versions, smartphone and/or tablet. The display technology is directly integrated with VScape ensuring changes, additions and deletions are instantly represented online.
In addition to VScape, you offer VBrochure.
VFM LEONARDO: VBrochure is an Online Merchandising System that provides hotel e-marketers with the tools to custom build multi-media players containing images and rich media, along with descriptive text and web page navigation. They can then embed them in their website and syndicate them to the network including standard desktop and mobile versions.. With VBrochure, a hotel e-marketer can create a more compelling and engaging experience that tells their hotel's story to consumers and makes the hotel stand out.
VBrochure is typically purchased by a hotel or the management company that manages the property with the endorsement and encouragement of their brand.
VBrochure enables hotels to:
Display rich media that tells their unique story in a compelling way across the largest hotel media syndication network
Create an engaging Facebook page with multi-media driven Apps
Optimize their website for mobile devices without sacrificing visual experience
What are projects that you can point to that boosted a brand or properties sales? Please explain what each client's needs were.
VFM LEONARDO: Think Apartments is a UK based extended stay hotel alternative. They wanted an easy way to ensure their four Think Properties had engaging media available across the web. They use their VBrochure Player as a media gallery embedded on the hotels' websites complete with compelling media and text to highlight the unique features of each property.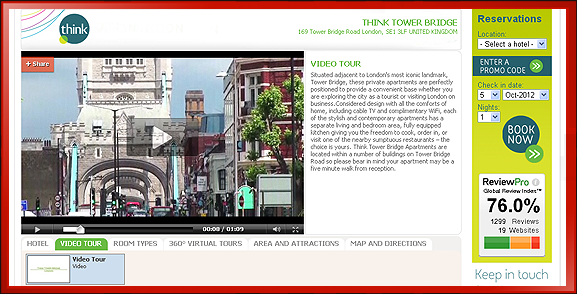 In addition, they have implemented the VPowered Smartphone websites and VBrochure Facebook Apps for each property to extend their hotels' visual stories to mobile devices and social media.
Darryl Walker, eCommerce Manager states: "We implemented the VPowered Mobile Website in October 2011, and when I compare year on year statistics, traffic increased by over 200% to our mobile site, mobile revenue has increased over 400% and the conversion rate has increase 40%."
Craig Perch, the Director of Revenue realized that is was important to keep up with consumer trends, so they invested in VBrochure to create an appealing and visually engaging online presence on thegeorgianterrace.com, across travel websites and social media platforms. They extended the reach of their visually engaging story by implementing the VPowered Mobile websites for both smartphone and tablet that comes with their VBrochure subscription. Craig states: "…overall online engagement is up on our website, on third party sites and on Facebook since implementing VBrochure."
You can view their mobile website by visiting thegeorgianterrace.com from a smartphone or tablet.
For photography + video content creation, should a property do it 'in house', or source out professionals to create the media, and why?
VFM LEONARDO: The first question that has to be asked before they even start thinking about how to produce content is 'what is the story I want to tell about my hotel and to what audience?' If you have the talent in house to do this, then great! If not, I recommend getting assistance.
Next you have to consider the image you are aiming to display and the source of content for it. There is an appropriate place for professionally produced content, "home-made" content and user generated content. There is no wrong answer to any of this as long as the story the content tells is consistent and the context is appropriate (for example, on social media consumers expect more user-generated content).
That being said, properties should not be afraid of professional content, costs have come down dramatically from 10 years ago and the production options have increased dramatically. As mentioned earlier, quality is also beneficial but not the only factor to focus on.

What are the top 5 tips you have for a brand/property looking to further investigate selling more with online tools?
VFM LEONARDO:
Identify what makes your hotel unique
Gather media or produce media that highlights what makes your hotel unique
Find a vendor that can help you amplify your story by getting it in front of travel shoppers when they are online shopping for travel
Maximize usage and visibility of your story by incorporating into marketing campaigns
Keep your media up-to-date and targeted (it's an ongoing process)
Any predictions for the future of online sales and marketing in this sector?
VFM LEONARDO: Competition for branded hotels listed on the GDSs will increasingly be non-traditional options presented by increasingly aggressive online retailers, like AirBnB and HomeAway. These retailers are doing a much better job of telling the story of the "hotel" in visuals and text.
The proliferation of channels and devices will continue at an accelerated rate – additionally the consumer will shop across devices and channels at an increasing rate. Mobile will continue to grow and play an increasingly important role in the travel shopping journey. It is transcending beyond its current reputation of "last minute booking channel" and playing an integral part in the cross device search process (i.e. watching TV and checking out hotels on a tablet at the same time).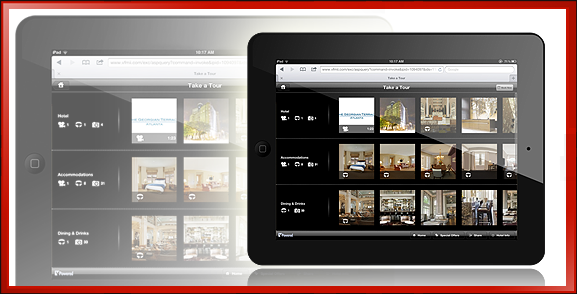 The consumer will continue improving their "intelligence" in shopping and will transcend transparency getting at the true story of your hotel – particularly through social media. They will also demand and see what each element of your hotel looks like before they consider putting you on their shopping list.
Visual experiences will continue to grow in demand. If hoteliers do not provide the requisite and necessary visual content that consumers demand, they will provide it to each other. Because of this, user generated content needs to be curated and amplified. Hotels that will win are those that will see their presence online as potential property tours instead of focusing solely in "low rate guarantees".
Excellent information John – glad to have you featured and being a part of the Reel Designer featured company series! If someone wishes to learn more, where should they go?
VFM LEONARDO:
www.vfmleonardo.com
@VFMLeonardo
Facebook.com/vfmleoardo