Welcome Marcus! Tell us about yourself, what your background in the business is, and where you are now professionally?
MARCUS ROBINSON, CEO / MONSCIERGE: Thanks for having me on to be a part of this interview series; I'm certain your readers will find value in what I have to share from my position at Monscierge.
I guess you could look at my background and notice it's primarily centered around software and technology. At 17, while attending college, I began working part-time for a software company, AMCAT.  When I was 21 I moved to the U.K. to found the European divisions of Amcat and its sister company, UK Digital.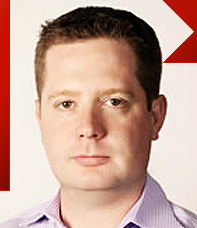 I stayed there for about 7 years before moving home and starting a commercial construction company in the Oil & Gas industry. In 2009 I handed off the day to day running of my current company to my team, and decided that I wanted to get back into technology.
Several opportunities presented themselves, but one idea really stuck out to me, figuring out a way for hotel properties to provide good quality local recommendations to their guests.
This was before the mobile revolution really kicked into high gear, so my initial focus was on large format lobby touch screens. With my background in enterprise class software systems, it was a natural fit for me. I've always very much enjoyed applying technology to business problems to discover new and innovate ways to address these issues.
Deep down, I am a problem solver, and an entrepreneur, software has always given me new and creative ways to tap into both of these passions.
In a nutshell, how does Monscierge offer solutions to the hospitality industry?
MONSCIERGE: Monscierge is unique in that, rather than create a product and hope it will catch on, we work closely with all tiers of hospitality professionals to work for solutions to challenges that really exist to hospitality staff, not just what we perceived them to be.
By that, I mean our team, including myself and managers, have been going into the hotels and hanging out behind the scenes with the staff, getting a raw look at what problems lie behind the curtain. Then we go back to the drawing board and see what we got right, and change or create what aspects we missed.
We maintain that contact throughout our entire development process- with the kitchen staff, the phone operator, housekeeping… any place that we might be able to enhance the staff workflow- resulting in a better experience for the guest.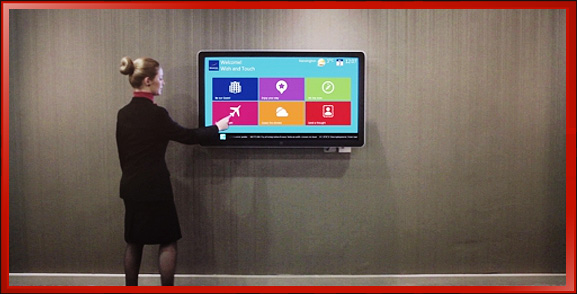 I believe another aspect that sets us apart is our solutions have a framework built for high scalability, that the hotel controls across all of their properties and user platforms simultaneously- that's a first for the hospitality industry.
You could have two Hyatts across the street from another, and walk from one to the other and see our application reskins itself to the respective property. Should Hyatt corporate want to change something across all their hotels that have our product- they do it by signing into our Guest Experience Engine, and make the changes- they show up instantly in either one hotel, or all of them.
They have total access and control.
[embedit snippet="bannerad1″]
What are some other top-tier brands/properties that your company has worked with?
MONSCIERGE: Some of the brands we are working with are Hyatt, Starwood, IHG, Wyndham… to mention a few. There are some European names as well like Accor's Novotel and also Ibis that our U.K. branch have partnered with just recently.
Intel, Microsoft, and Cornell's School of Hotel Administration are entities we're engaging with on projects that will assess the future role technology plays in increased hospitality revenue streams and guest satisfaction.
What are you finding are the top communication features that consumers expect to see from a hotel or restaurant they're researching?
MONSCIERGE: Definitely TripAdvisor is sought out for hotels.
PhoCusWright reports that 53% of respondents would not book a hotel if it did not have any TripAdvisor reviews. Also, if you are not mobile-ready you are chancing a large loss of revenue stream and guest satisfaction scores.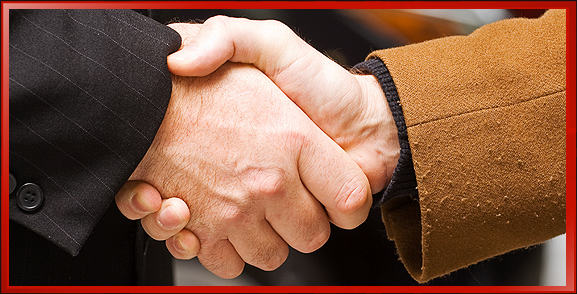 You can't create an enhanced guest experience with today's savvy traveler unless you're of a mobile mindset. One hotel we are working with had street construction blocking their main entrance for a couple of days. Through their mobile app, they were able to communicate an alternative valet solution to their guests arriving that day, and send them an offer for a comp meal in their restaurant, making a lasting impression and loyal guest.
We keep seeing more and more guests taking to Twitter as a means for complaints as well.
Cornell's School of Hotel Administration has been adamantly encouraging hotels to maintain a strong social media presence, because even if the hotel property or brand isn't engaging on social media platforms, their customers are putting their names and reputation out there for everyone to see!
What pains that your clients experience are alleviated by your company's services?
MONSCIERGE: We try to consult on a property basis, although most hotel tiers will have the same struggles within their group.
Recently, after looking behind the curtain at some of our upper-scale hotels, we found that several of the staff members were relying on their personal cell phones to communicate guests requests from different departments. We created a staff mobile app that pushes and assigns requests, and notes the time and when it's completed. In order to drive on-site revenue, hotels need new ways of communicating with their guests besides the traditional methods that don't capture guests attention anymore. In our app, the property can send message notifications from their CMS.
It's especially useful when guests are say, at the pool, and get a notification of a free drink before 2pm or notification that a hotel event is about to begin.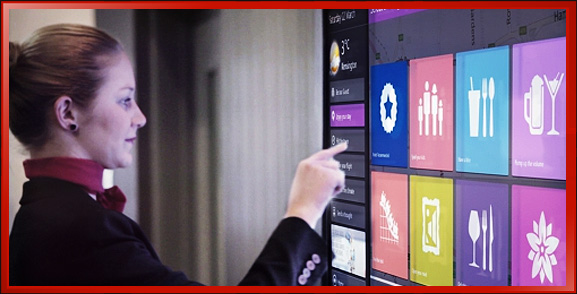 Hotel's can create a guest profile for what each guests specific interests are, and tailor these offers, creating a designed and holistic guest experience. With local recommendations placed by the hotel themselves in lobby devices and the app, it not only helps the front desk staff with keeping lines smaller, but guests don't have to be onsite or call the hotel to access such information.
Being able to rate the merchant they visited also helps to build a larger guest recommendation network as well within the app. Perhaps the feature hotels seem to favor the most, is the ability to control everything instantly from one location.
All the power for branding and changing their apps across all hardware devices, in all locations globally, is at their fingertips.
Hospitality video marketing is steadily becoming a more important part of a solid online-marketing formula; why is video becoming more important?
MONSCIERGE: I think some of it has to do with being so inundated with email marketing and advertising everywhere you look.
We're so often zoned out now to the traditional 60 second spots and emails trying to capture our attention. We tune back in when something appeals to our emotions, something that we personally can attest to.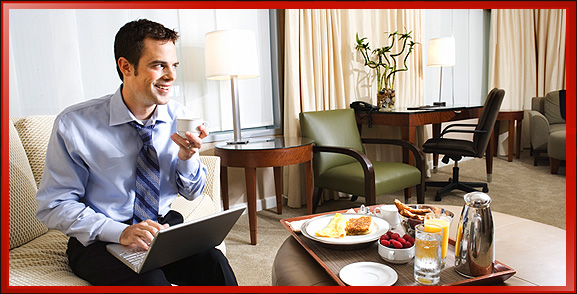 With good hotel video, audiences can relate to the traveler checking into their hotel with that blissful mood that comes with vacationing or the smooth sailing business trip with a hotel full of quality amenities and staff that care.
Those feelings can be emulated through lighting, sound and actors. When we are investing emotionally into multimedia, we tend to soak in the "message" being delivered, sometimes subliminally.
Everyone loves a good story.
What is it about quality video that gets viewers to convert into sales?
MONSCIERGE: I think it depends on the feel and audience you are aiming to capture the attention of.
A professional video might be able to capture preset lighting and portray the ambience the director is pushing for, but I've actually seen several videos recently that have a more documentary, iPhone quality feeling that conveys a depth that you can't reach with filters and effects.
We have produced both for Monscierge, and I feel like there's a place for each of them in our marketing strategy.
What are the most important must-haves for an effective promotional video for a hotel or brand?
MONSCIERGE: Definitely have some sort of a story, whether is the day in the life of the hotel General Manager working on enhancing the guest experience, or the story of a guest during their travels.
I also believe an honest, straightforward script, one not full of marketing and brand language, is crucial to really getting people to truly take notice.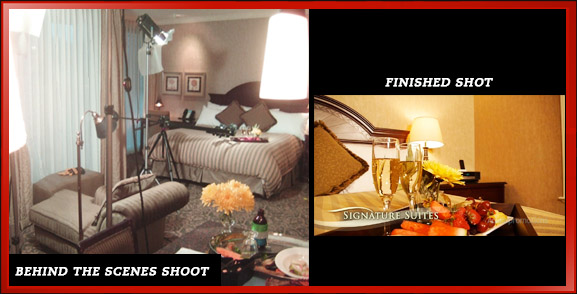 A talented videographer is imperative for capturing the human spirit that a hotel seems to buzz with- there's a lot of energy in the multitude of experiences taking place with travelers that are in and out, and a staff that works 24/7 contributing as well. And, your video isn't going to be worth anything if you don't have the proper marketing placement behind it.
This is where social media is going to truly pay off:
Keeping up relationships with hospitality bloggers and journalists, communicating with them on a regular basis, will build a network that will serve hospitality as a whole- and you can't create for the masses without a dedicated social media presence.
How important will mobile-readiness be for the future of hospitality marketing?
MONSCIERGE: If you're not already mobile in some fashion- you're getting left behind. YouTube looks great and is optimized for the smart phone, and apps exists for near everything a user would want to do to make an informed choice.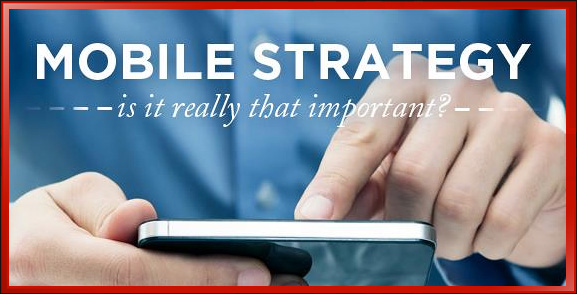 More than 25 million United States mobile users research travel information on their mobile device each year, and close to 12 million of them have booked a flight, hotel, reservation or ticket to an event using their mobile device.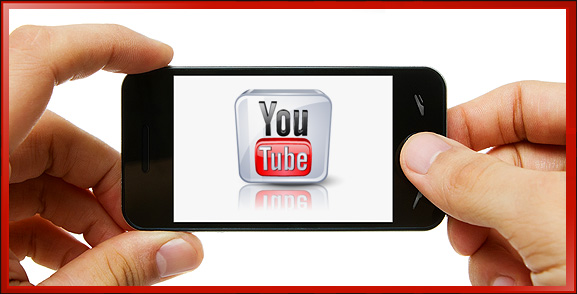 I don't think there's much left to say after that… haha!
What changes will we see in the hospitality market in the next decade – how will properties have to adapt?
MONSCIERGE: Other than the necessity for businesses to be mobile-ready you mean?
I think you're going to see a lot more hotels catering to guests individually with the way technology is able to provide touch analytics and user demographics together, even in the select tier scales that don't have as many amenities, but are located in strategic areas of commerce.
Hotels are going to have to learn to be faster with information their guests are requiring from them – whether that's rates, specials, offers, amenities, local information… whatever it is they are seeking – guests are looking to have it now, and if the hotel's not providing the answers, guests will take their attention and their loyalty away from the desk, from the staff and from the brand. The solution seems to all point back to technology as a key factor.
It seems to be growing strongest in personal handheld devices and social media- I don't know that there's any way around not taking ownership in your brand penetrating that market and surviving.
[embedit snippet="bannerad1″]
Can you go into more detail; how has a client of yours benefited from your company's services?
MONSCIERGE: Great question!
With every client, we start off by finding ways to Increase customer satisfaction and guest loyalty by way of connecting the guests to a hotel's staff and/or a hotel's recommended information – quick and easy access to this directly impacts a single guest's experience.
By immediately addressing the guest and providing an in depth and intuitive answer, hotels find improvement in morale, trust, and happiness. It is a complete change in how the guest operates while traveling, and it's not only affecting satisfaction levels, but also hotel staff work flow efficiencies and the bottom line.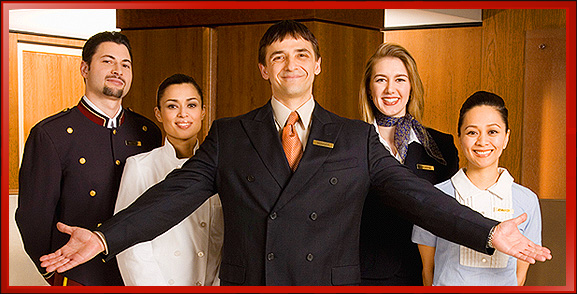 With Monscierge, the hotel brand extends beyond the front door of their property – it stays with the guest when the "guest" sequence is forming at home during the planning and booking travel phase, and all the way through to after the trip is over by sharing of reviews and social media. all under the hotel's brand and not through several applications that take the guest away from the hotel umbrella to other parties.
Booking a room, checking in prior to arrival, searching offers the hotel or hotel amenities might have, making special request, ordering room service, and the guest provide instant feedback to the hotel, giving the hotel a chance to respond immediately, as oppose to getting feedback long after the guest has returned home.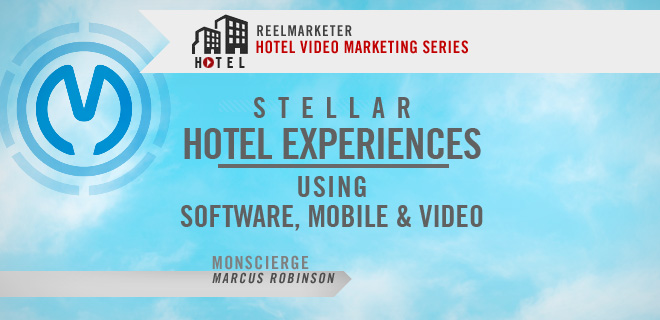 Thank you for taking the time to inform our audiences to what your company stands for, and what you do! How can someone learn more about you and/or your company?
MONSCIERGE: Again, thanks for having us!
At Monscierge, we strongly believe in the power of video marketing, the telling of your story to reach audiences.
When we began putting out videos and pulled back on the traditional marketing collateral, we noticed an increase in traffic – not only hospitality, but also vertical markets interested in taking our products and theories to another sector. To collaborate on the guest journey or learn more about Monscierge, you can visit:
Website: www.monscierge.com/blog
Twitter:  @Monscierge
Facebook: http://www.facebook.com/Monscierge
LinkedIn:  Monscierge
In addition, here are some stats your readers be interested in:
Intercontinental Hotels Group's (IHG) mobile revenue will overtake web revenue in the next few years, according to VP of web and interactive marketing Michael Menis.
"21% of leisure travelers and 26% of business travelers watch video for travel information, 45% and 72% respectively were prompted to book as a result. — Google and IPsos MediaCT- August 2012
Speaking at Mobile World Congress in Barcelona Menis said the hotel group generated $40 million in mobile revenue last month alone! Read here: IHG's mobile revenue will soon outstrip web, says VP of marketing Michael Menis