GeniusRocket President Peter Lamotte hits the nail on the head – crowdsourcing video production can indeed match agency level production. An accountable, vetted network of pros, is how it starts – read on…
Welcome Peter! Tell us – what does GeniusRocket do?
PETER LAMOTTE, GENIUSROCKET: GeniusRocket creates agency-quality video using a curated crowd consisting of the country's best production companies, animation houses, writers, and creative directors! We deliver video campaigns to brands large and small, non-profits, associations, and others at a fraction of the cost of a traditional agency without sacrificing the quality of production.
What are some of the most notable clients and campaigns that GeniusRocket has worked with?
GENIUSROCKET: In the last few months we have worked with dozens of brands including Audio-Technica to produce "Audio 911", a product promotional video that organically reached over a million views on YouTube in less than two months!
We also worked with Sylvan Learning Centers to produce four national televisions spots including "Frozen Classroom" that won critical creative acclaim. We're quite proud!
I must add, GeniusRocket is not limited to only live action; as a full service video agency we also produce animation, motion graphics, and kinetic text content. Recently we created this motion graphic animation for AARP and this video for George Washington University.
GeniusRocket's slogan is "The First Curated Crowdsourcing Company". What is Crowdsourcing and why is it important?
GENIUSROCKET: Crowdsourcing is a term that has taken on a life of its own. For many online video production companies it simply means open contests where anyone can submit a video, but only one or two people will get paid. While GeniusRocket orignally had that same "contest" approach, we walked away from the model and created what is called "Curated Crowdsourcing." Our new model is built upon a vetted community of professionals, not amateurs and students.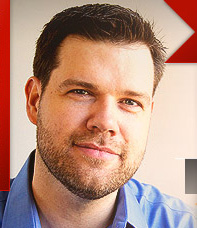 We leverage their excess capacity, or "free-time". They are invited to projects based upon their experience and abilities. By matching skills to projects, clients can be rest assured that the original concept submissions are from writers and creative directors that truly understand their branding needs. Matched by the fact that all of our projects are private and protected by NDAs, brands can now share messaging and strategies that they never would be able to release within a contest.
Our particular crowdsourced concepts allow brands to affordably harness the creative power of the crowd, yet the curation guarantees the professionalism and quality of an agency.
How does a project go from client handshake, through strategy & production to distribution?
GENIUSROCKET: GeniusRocket's curated crowdsourcing model is based around four distinct phases: Concept, Refinements, Production, and Distribution. Allow me to go into depth for each:
Concept: Based upon a strategic creative brief, a vetted set of writers and creative directors submit original concepts for feedback from the client. The one-page concepts not only include an overview of the idea, but also the creator's strategy around the concept, suggested music supervision, location and casting. For animation projects, concepts are submitted by pre-vetted animation teams and include creative style and tone as well as music supervision.
Refinements: Clients provide feedback to each creative team and select typically two to five concepts to move forward to be visually brought to life by professional storyboard artists. The storyboards will be reviewed and quantitative and qualitative feedback will be provided by a crowdsource based online focus group, and by GeniusRocket Critic-at-Large, Bob Garfield. Bob is the advertising industry's most prolific and well-respected advertising critic. Both the focus group and critic-based feedback will help the client best decide which concepts to take into production.
Production: GeniusRocket facilitates pre-production sessions with the client and production teams to review locations, auditions, scripts, and all variables that could affect quality of final production.
Distribution: Once production and rounds of edits are complete, GeniusRocket will help distribute the video content through a host of media partners. Whether online or broadcast, GeniusRocket makes sure the video is not only seen, but also engages the client's target market.
Why is quality more important than quantity with video?
GENIUSROCKET: Well, from the data side of the argument, last year a ComScore study showed that professionally produced video can have 32% increased sales effectiveness over those created through user generated content campaigns!
However, more anecdotally, the vast majority of our clients don't want 40 videos; they want one or two really good ones. They want videos that represent their brand well and don't say anything that could hurt their image.
Contests can be a very dangerous path for certain brands. As I explained earlier, what GeniusRocket has done through our "Curated Crowdsourcing" model is bring the control and quality of an agency, with the price point and creative choices of a contest.
GeniusRocket really is the best of both worlds.
What types of businesses benefit from using video advertising?
GENIUSROCKET: I have yet to find a company that can't stand to benefit from using online video.
Today, there are more specialized television networks than ever before. There are more and more ways to target specific demographics online with pinpoint accuracy.
This, matched with the fact that we know video is the most effective marketing tool brands have, it is hard to argue why it wouldn't make sense to invest in video. Especially seeing that people like GeniusRocket can produce that content at a fraction of the cost of traditional agencies, now is the time for companies to start creating content for their brand.

But it isn't just B2C companies that see the benefit of video. When B2B companies see that click-through rates on emails can be increased up to 300% if video is embedded, they should start using video as part of their marketing strategy. Finally individuals will spend over 10% more time on a website if it has video on the site. This is important not just to B2B and B2C companies, but also to Non-profits, universities, and political organization. Its all about engagement. It really is the most power tool that all companies have at their disposal.
Can you give us an example of a client success story?
GENIUSROCKET: When Audio-Technica came to us at the end of last year we knew we had an opportunity to not only be creative, but to work with a brand that would take some risk. In the end they created three videos, one for their B2C headphone market, and two for their B2B microphone market. The B2C project was by far the highest profile of the three.
Audio Technica came to GeniusRocket with a limited budget and a product that had not yet cemented strong brand recognition in the consumer market. They wanted a fun, non-corporate video that would excite its target market and create awareness for Solid Bass Headphones, while also promoting the Audio-Technica brand. Through our private platform, we vetted our creative community for qualified production companies who we knew would be able to creatively respond to Audio-Technica's creative brief. We were able to then respond to Audio-Technica with 31 high-quality creative concepts. Concepts were narrowed down to three storyboards, and eventually one idea was selected for production. GeniusRocket and Audio-Technica worked together during pre-production to make sure all aspects (such as casting, music selection, and location) fit the brand team's desire, and were present on-set during production to ensure the everything met the brand's expectations. Finally, GeniusRocket provided strategy and execution around online distribution.
The result were impressive.
Within 2 months of release, the video, "Audio 911" captured over 1 million views and garnered much attention by the media and most importantly, by the target audience. Not only did the Audio-Technica brand team launch a great commercial that resonated with its target audience, they were able to do so using only a fraction of their marketing budget. They credit the video for expanding their distribution channels and increasing sales.
What risks might a business be exposing themselves to if they avoid preparing for a video in their future?
GENIUSROCKET: Video is the most effective tool that marketers have. The costs of production are coming down rapidly, while the accuracy by which brands can target their customers and clients is getting more exact. The time to get involved with video is now, and if a company isn't jumping in they can rest assured their competition is. For B2B companies, they should know that 76% of executives state that they watch online video, and their purchasing intent is greatly influenced by seeing this content.
For the B2C space, 98% of Ad Age's top advertisers are running ads on YouTube. In short, your competition is already fighting for the attention of your target customer. There are tricks to stand out above the rest, and that is what we incorporate into our iterative model, but companies are foolish to think video isn't important.
Can a company measure the ROI of their video marketing campaign?
GENIUSROCKET: Absolutely.
The bigger mistake is when a client fails to set the measurement of success ahead of time. We work with many of our clients to set KPIs (Key Performance Indicators) ahead of starting a project. The top measurements are views, likes, shares, and basic sentiment analysis. In order for a company to really tie in ROI they need to make sure their marketing is structured to measure sales influence. Video should not be PART of your marketing and sales strategy, it should be considered a strategy of its own.
Many of our readers are of the DIY variety often because cameras and equipment are so inexpensive. What are some reasons you would recommend investing in the GeniusRocket's solution rather than attempting a DIY production?
GENIUSROCKET: It is all about risk. GeniusRocket provides a solution that is incredibly cost effective and delivers the results and creative control that brands want. Companies that want the quality of an agency and the brand protection that contests or amateur based communities can't always provide should look to GeniusRocket to see if it makes sense for them. The truth is there are times where a company has relatively no budget, or the video isn't important enough to be focused on quality. In those cases DIY production may be the perfect fit.
Taking a guess at the future, what developments might we see in terms of video marketing creativity in the years to come?
GENIUSROCKET: Not to get too philosophical, but in the last hundred years technological advances always tend to mimic the prior technology. TV first mimicked radio, and the web likewise mimicked print and online video marketing mimicked ads from TV. Most information was delivered in text form. We still see the vestiges of the early web. Brands produce white papers, long-form written reports, and blogs upon blogs. Online video followed a similar path. Early video marketing was simply content made for TV that was repurposed for the web. However that has been changing.
From both a distribution standpoint and a video technology standpoint, there are big changes in our future. You will soon see content that is not just customized to the online property, but to the exact individual in a way that reflects his/her buying and surfing habits. In the past a company couldn't dream of creating enough content to do that. Now there are technologies in their infancy that do just that.
It should be really amazing to see how creative brands will be when using video to reach their customers and clients in the next couple years.
Great information, glad we've been able to share with the Reel Designer readers! What's the best way for readers to learn more and to easily be able to get in touch with you?
GENIUSROCKET:
Readers can visit www.geniusrocket.com to learn more about our process, portfolio, and recent news events. If they have more direct questions, find me on twitter @peterlamotte or can e-mail me at peter@geniusrocket.com or call 202.688.3242