The production and publishing of a video is only half the battle in the world of online video marketing; a truism of course, but sometimes, not fully realized.
Driving an action, whether cognitive or behavioural is the raison d'etre of an online video and every tool at your disposal should de deployed in attaining this result.
On YouTube, the viewer of your video is often of a very different mind to those at your website, so a strong call to action may be constructed entirely differently. YouTube offers assistance in this area via the annotation system, an often over-looked opportunity for video creators who either don't quite understand the purpose of annotations, or are just unaware of how to implement them.
This article aims to address both these issues and get you on your way to improving the viewer experience on your videos and driving clicks.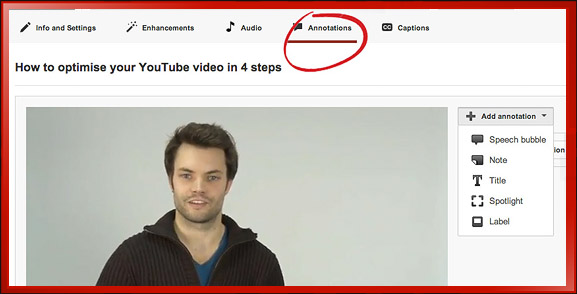 The annotation system on YouTube bestows video creators with an extra level of functionality once their video has been published. These annotations are simple visual overlays that convey further information to the viewer, and in some cases, can be linked to external content or to facilitate an action. To apply annotations to your video, open up your Video Manager dashboard from the drop-down in the top right corner.
Next to your desired video, select Edit and then along the top, navigate to Annotations.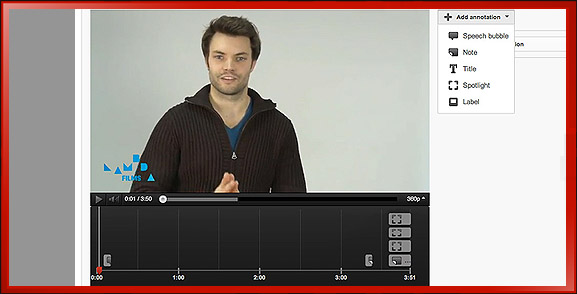 On your screen you can view your video in real-time and using the drop down menu on the right, insert your chosen annotation at the right spot!
For those of you who edit your own videos, you'll be familiar with the track system laid out below your video which shows the placement and duration of each annotation.
YouTube offers a choice of 5 annotation styles which vary in design and functionality, let's take a quick look at what's on offer.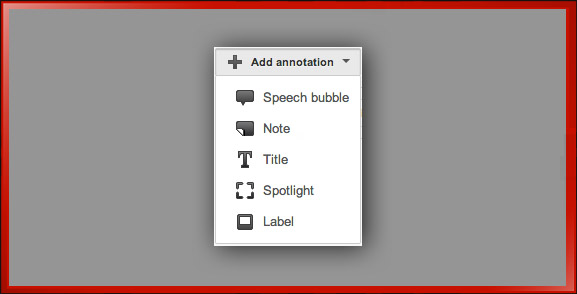 Annotation Option: Speech Bubble
The speech bubble is often used to convey extra information but in the presenter, or videos creator's, own voice. It may be used for comic effect, "Yes! I forgot my line!" or to personally ask for your viewer to take action, "Please subscribe to my channel". The Speech Bubble annotation is linkable, so you can ask viewers to click to subscribe or jump to another video, playlist or channel.
Annotation Option: Note
A note denotes extra information, but is often more formal. Many video creators use them to alert viewers to new or similar videos that the creator has uploaded since, "Check out our sequel to this!". Once again, the Note is linkable and so can drive a variety of actions.
Annotation Option: Title
The Title does what it says on the tin. Should you have forgotten to include a textual title on your video, then YouTube provides a means of adding one, albeit with limited customization and no clickable functionality.
Annotation Option: Spotlight
The Spotlight is my particular favourite annotation, and the most important asset if you want to create a truly interactive video. Spotlight creates an entirely transparent, clickable hotspot that you can place over your video and link to your desired action. However, I tend to supercharge my Spotlight annotations by creating YouTube-specific title cards and end plates during the edit, allowing me to create dynamic and branded buttons that can sit under the Spotlight annotation and effectively create a very stylized navigation menu.
If you become a full YouTube partner then you can use Spotlight to create links to products or external websites, an incredibly useful and desirable tool.
Annotation Option: Label
The Label is very similar to Spotlight, except it adds text functionality that sits directly below the hotspot, essentially creating a caption for the link.
So, those are the annotations available to you, and all have limited flexibility in design, allowing you to change colour, size or text colour but nothing else.
I highly recommend creating YouTube-specific edits of your videos that make use of graphics, combined with the Spotlight annotation to ensure you have control over the design of your call to action, see below for an example of mine.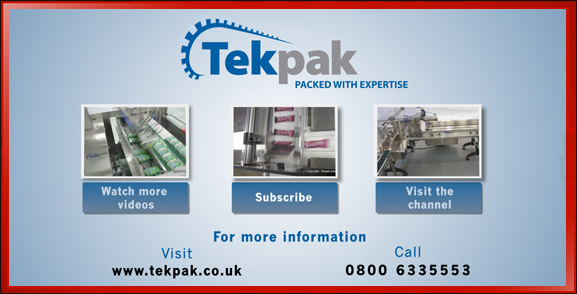 However, rest assured the other annotations can be used if you need to add extra information after publishing.
Since October 2012, YouTube now ranks your videos according to how long they retain viewers for, however this metric is applied to the desirability of entire channel.
This is a good argument for always using annotations to link to you other videos as it increases your viewer overall retention and the importance of your  channel and videos!