Welcome! It's exciting to get a chance to get you on as a featured video marketing expert! If any of our readers haven't already heard of you, please tell us, who you are and what you do professionally!
REBEKKA DEFORCE / MAGIC MEDIA FORCE: First I want to thank you for this interview. I have been employed in the audiovisual sector since 12 years now. For the last 8 years I work in a video production company specialized in news broadcast for various European television channels. My job as Media Manager and Tech Chief taught me all there is to know about the technical and creative parts of making video and television.
My biggest passion, besides video, is the Internet. I absolutely love the internet, every part of it. It absolutely intrigues me, in every way!
More than a year ago I decided to start my own internet company which enabled me to combine my passions and teach entrepreneurs about video marketing, YouTube marketing and the technical aspects of creating videos.
I blog and home base magicmediaforce.com attracts a variety of online and offline entrepreneurs looking to increase their business making use of video.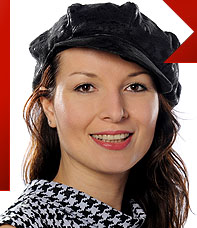 What initially compelled you to become a video marketing leader with Magic Media Force?
REBEKKA DEFORCE: I saw a big evolution in video, while video was first a medium only created by an elite group of television channels and cinematographs, now everybody can be a video star.
I knew I could learn businesses how to make use of this fantastic medium and it also enabled me to become an online entrepreneur myself, which has been my dream for a long time.
I saw that my knowledge and skills that I gathered in the broadcast world could be of great value to non-professional video makers so they wouldn't have to go to all the struggle and strive I went through learning about video as I actually had a Jazz education and studied music.
Why video? It's been around for a long time in various mediums already – why is it suddenly important now?
REBEKKA DEFORCE: Video has always been important. Theaters and television have always been drawing big crowds and grew from top entertainment media to top marketing media. Only since the last couple of years, the medium of video has become available to everybody thanks to the popularity of YouTube and the cheap video gear that is around today.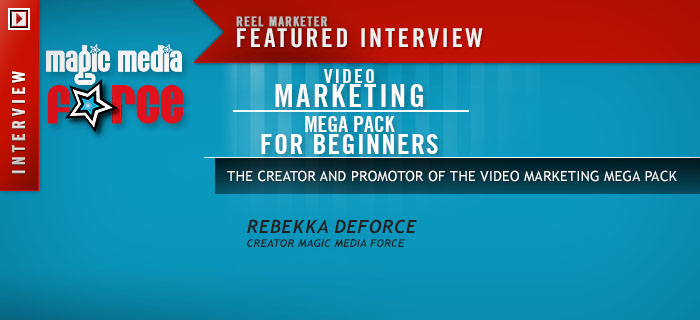 What are the big opportunities for businesses to start use video in their marketing?
REBEKKA DEFORCE: Businesses have the opportunity, which I think is most important, of personal branding. Through video people get to know you and form some kind of relationship with you. People don't like to buy from companies as much as they like to buy from other people. When you become a familiar, trust worthy face in your costumer's eyes, they will buy anything from you.
You will rise to some kind of celebrity status and will be seen as an authority figure.
Besides that, video is a likable medium and is consumed easily and quickly, so you have more chances to bring your message across.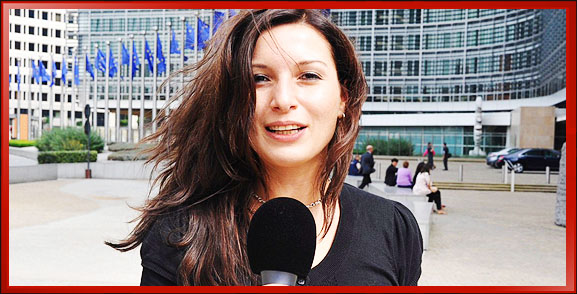 If a business or sole proprietor is debating to just ignore video, what dangers are they facing?
REBEKKA DEFORCE: Businesses are facing the existing danger of being surpassed by all their competitors who do use video. They will be seen as old fashioned and unimportant. Even businesses that are not willing to use video right know will be forced to make videos in the near future.
When personal computers just hit the market, not everybody was enthusiastic, but eventually even the most stubborn companies had to make the digital switch in order to keep up with the competition.
The same story is happening with video and businesses that are willing to start with video now will be steps ahead from others that don't (just yet).
Is Do-It-Yourself (DIY) video an okay starting solution for businesses? 
REBEKKA DEFORCE: Going DIY would be the best solution for most businesses, first of all it would keep expenses low as professional video crews are still very expensive, and second, "homemade" videos have some kind of charm and radiate a feeling of trust and familiarity, which is a big plus in marketing.
Some basic training in video skills is preferred though.
Is it rational for 'newbies' to be intimidated with the idea of learning how to produce basic video?
REBEKKA DEFORCE: No, creating simple but effective videos can be learned in a minimum of time with a minimum of budget. It looks more difficult than it actually is. Companies used to be intimidated by creating a website and now every school kids has his own.
It's just a matter of being open to new things, just do it and improve as you go.
What are the most common issues that you typically see first-timers getting caught up on?
REBEKKA DEFORCE: I noticed that a lot of people are scared from anything that smells a bit technical. But that doesn't have to be so difficult at all. It's a matter of gathering the right information first. Study the subject of video until you have a basic understanding of all the different aspects and you will be flying in no time!
Being in front of the camera is another huge issue that I experienced myself, but I discovered simple tactics to overcome this fear and also to overcome my ability to memorize my texts. Often I use a method now that I call "The Video Marketing Bunny Method"
Which works perfectly for me and also for other entrepreneurs which I thought these tactics too.
How can a beginner learn to overcome these problems?
REBEKKA DEFORCE: When you are just starting out with video marketing it is recommended to start with the basics of handling a camera and simple video editing techniques. Beginners may benefit highly from reading and working with my ebook: From Idea To DVD which they can download for free: http://magicmediaforce.com/from-idea-to-dvd-subscribe-before-download-x7854
Name a few projects that have benefited from Magic Media Force.
REBEKKA DEFORCE: I have made animated website and video intros for clients all over the world. I did quite a lot of animation work for Wowza:
Also, I and made intros and video edits for other online entrepreneurs:
I also made a magical photo presentation for a talented Dutch Photographer, which you can see here on the right sidebar on her website.
I also did a lot of video work, helping entrepreneurs creating video products they can sell online.
Why does video work to gets buyers to make purchases or take the first step to making the purchase?
REBEKKA DEFORCE: Since the digital age has allowed consumers to shop from the comfort of their home, shoppers have lost the ability to actually feel, play with, and see products in person.
When businesses create detailed demo videos that explain their products or services, customers do not feel as if they have lost that in-store experience when shopping online. Also, with thorough videos, customer service is no longer burdened with obvious questions such as, "How does the product work?" when the video tells customers all they need to know to make their purchasing decisions.
Creating a business video is pretty exciting once you get your creative juices flowing.
Instead of typing away at a blog post, figuring out just the right words to perfectly describe your business' product or service, you can make a video that brings your offering to life. This is a great way to let loose and go wild when you conjure up all your creative energies and make an awesome video that everyone besides your mother will want to watch.
Is it proven that video is good investment and will pay off? How?
REBEKKA DEFORCE: Besides how to-videos to accompany your products you also have the possibility create "video products"
Video courses to be watched in a nice membership website really pay off.
Videos are perceived as highly valuable so it will always sell at premium prices. The big advantage is that you only create your videos once and you can sell those hundreds of times. That way your investment of creating the video will pay itself off in no time and all extra sales are bonus.
Then there is the creation of video sales letters which is simply selling through video. A video is a lot more personal, and hearing the pitch coming out of your mouth is highly effective, even more effectively than sales copy. People will buy from YOU, so it is important that they get to know you and to see you.
Go into depth about your product, Magic Media Force Video Marketing Mega Pack! Tell us all about it's benefits.
REBEKKA DEFORCE: You can get started with creating how to videos, video products and video sales letters right away. I have created the Magic Video Marketing Mega Pack especially for entrepreneurs wanting to step up their video game.
With this video marketing pack you will be able to create real professional looking videos, like video products which you can sell over and over again. I show you what tools you will need and how to get them for free.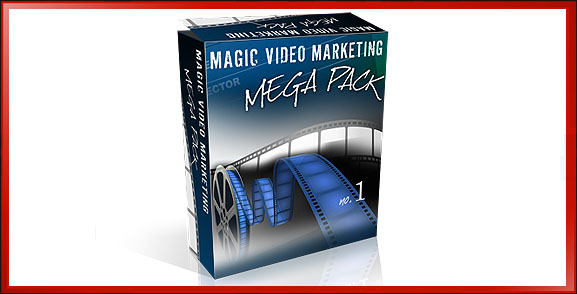 You will learn how to set up your own membership website and I will show you the psychological aspects of selling through video, actually making sales videos that will really create that compulsion to buy in your viewers. All that goodness comes together with step by step tutorials, free multimedia files like over 500 magic music tracks, magic film scores, magic sound effects, magic music loops, Magic video backgrounds and stock footage and a humongous lot more! I'm really proud of it.
With this Magic Video Marketing Mega Pack you will be able to:
Make videos that absolutely score
Discover simple effective techniques to create your own video products
Create killer videos without technical knowledge
The psychology of selling through video: Techniques that will raise your conversions with 500% (!)
Thousands of cool multimedia files that will give your videos that instant professional look.
Become a member of the greatest community of video marketers
Have a look for yourself: http://magicvideomarketingmegapack.com
What are the top tips you have for a newbie starting out to create their very own video?
REBEKKA DEFORCE: Start with free or low cost tools to get used to the video creating process. You don't have to sell your car to get started with video. The content of your video is far more important than the technical fanciness. So start with the content, you can always get fancy later. In the Magic Video Marketing Mega Pack I will show you all the great free and low cost tools around and I show you how to use them so you can get started literally today creating your own videos.
What video gear do you recommend for a beginner?
REBEKKA DEFORCE: Just a computer and a USB microphone will do for starters. In the Magic Video Marketing Mega Pack I show you all my preferred low cost gear.
I would advise you not to buy the most expensive gear when just starting out. First get the hang of it and upgrade later if you need too.
For a camera a pocket cam or iPhone 5 will do just fine, or an iPod Touch.
Where can a reader go to try out/learn more about your product/service!
REBEKKA DEFORCE: http://magicvideomarketingmegapack.com I will only allow 100 members at this time because this is a test run. The mega pack might open again later at a much higher price, so act fast if you want to profit of this major limited discount. If you become a member now, you will stay a member, so you never will be charged any extra costs, just a one-time small investment to become the next video marketing star.
Glad to have you on, and that we're finally able to get your company featured as part of the Reel Designer interview series! What are the best way for someone to get started with your company to see if your services are a fit?
REBEKKA DEFORCE: Just go to http://magicmediaforce.com and start reading my blogs! ☺ I give tons of information out free, just see for yourself if you like my style and I'm always open to assist and help in any way I can.
Website: http://magicmediaforce.com
Facebook: http://www.facebook.com/magicmediaforce
Twitter: http://twitter.com/RebekkaDeforce
YouTube: http://www.youtube.com/user/MagicMediaForce
Google+ Profile: https://plus.google.com/116054882995135393585/
Google+ Page: https://plus.google.com/b/113983074242933717899/
LinkedIn: http://www.linkedin.com/in/rebekkadeforce