Thanks for sitting down to do the interview, Debi! Tell us a bit about what who you are, what you do and have done professionally.
DEBI BLIZARD: Hi, thanks for having me! I have spent the past 5 years living in China where I learned Chinese and worked with various companies in Advertising & Communications. I am far from an expert in the field but I am happy to share with you my thoughts to your questions.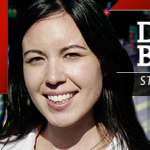 In the Advertising world, I am what we call a 'Strategic Planner.' Typically, you have the Accounts team which handle and manage the clients and the Creative team who come up with the actual design and copy of the ads. Planners bridge these two teams helping to understand the client's brief and working out a strategic direction to guide the Creatives on what we want our communications to say and how we want to say it. Our starting point is usually by researching the market, checking out the competition and what they are doing, understanding who the brand is and the values they stand for, defining who the target audience is and, most importantly, talking to these people and listening to what is important to them. The real magic happens when you take all of that information and simplify it into one strategic brand direction that is going to hit home with their audience, differentiates from the rest and stays true to the heart of the brand.
A very integral role in a large agency – and a lot of responsibility! You've been involved with several advertising agencies, most recently Wieden+Kennedy's Shanghai office. What were the roles you had there, and what are some of the clients you worked on?
DEBI BLIZARD: Yes, I worked at Wieden + Kennedy in Shanghai as the lead Strategic Planner for the Levi's brand across Asia Pacific developing the 2011 global Go Forth campaign. I've worked on brands across many different categories, so, after awhile, you get good at learning as much as you can about something in a very short period of time. Some of the other brands I've worked on have included Converse, Nokia, Nestea, Dairy Queen, Cadillac, TNT Express, Behr Paint, Papa John's Pizza, IBIS Hotels, etc.
Most of those names are familiar – hits home how global many of the brands I consider North American are. Any particular experience that sticks out for you?
DEBI BLIZARD: I think the strangest project I ever worked on was for a company called Sperian who make industrial safety equipment. We were researching factory workers across Asia on this crazy breathing apparatus similar to what scuba divers use and I remember thinking 'There's no way I'll understand the mechanics of how these things work, let alone be able to have a dialogue about them with skilled technicians and somehow I got through it, in Chinese no less. I had to fly the breathing tanks from country to country, the customs officials must have thought I was crazy.
I figure it's common knowledge, hopefully even in China, that those in advertising have a screw a bit lose, zoo… compared to Western forms of advertising, how does advertising in China look?
DEBI BLIZARD: Great question. Advertising in China is quite different than in the West. In China, it is an industry that is still relatively young and one which comes from very different beginnings than the West. In China, ads first began as political propaganda to rally the nation during the Maoist era. It was only after China adopted a market-based economy and opened their doors to the rest of the world that brands moved in and staked their claim. Today it is a different China, a China that is constantly evolving – new conglomerate brands are entering the market daily, local brands are getting bigger and stronger, middle class wealth is accumulating and people are itching to find new ways to spend their money. But while the opportunity is undeniable, so is the competition. China is becoming so saturated with brands that it can almost feel like sensory overload at times – flashing lights, blaring screens, loudspeakers, pushy salespeople. People are becoming increasingly distrusting of marketing claims and it is becoming harder for brands to stand out in a way that feels authentic and genuine.
I wasn't aware yet of most of those points in regards to East Asian marketing.. go on!
DEBI BLIZARD: The key is in realizing that advertising in China must be targeted, quite specifically – to make sure the brand message cuts through all the other crap out there and resounds with the right audience at the right time and place. We worked with global brands, trying to help them see what makes China so different from the West – understanding that certain things just won't resonate in the same way, and sometimes in completely the wrong way than you might intend.
Fantastic insight Debi, I've been wondering about this from a general marketing perspective too.. Continuing on this thread, what are some popular marketing trends in Asia that we haven't seen here yet?
DEBI BLIZARD: The digital space in China is definitely where we are seeing the most activity, especially among youth. Social networking has taken off, but since the government has blocked national access to sites like Facebook, Twitter and YouTube, Chinese-unique equivalents have been developed which are almost identical clones with additional features made specifically for the Chinese market. The volume of users on these local sites and the rate they are growing is hard not to get excited about and many brands tend to want to focus solely on digital activations. But brands need to realize it is less about the medium these youth are interacting within and more about how and why they are doing it. The one-child policy has spawned a generation of youth who have grown up in a sheltered, high-pressure and quite lonely environment. They yearn for interaction with people like them, to explore, to live and learn and be carefree. The internet lets them do that, away from the tensions they face in their everyday.
There are millions of BBS discussion forums on the main platforms like Sohu, Baidu and Yahoo where Chinese go to meet people and chat. These BBS groups are so complex that you can literally search chat rooms for any topic, province or city. A few years ago there was a big trend of teens organizing random meet ups with strangers they met online. There is a large trend now of people finding strangers to travel with together.
Another amazing example of the collective power of the Chinese internet is what is called the Human Flesh Search Engine. Because of the insane amount of online users in China, things are passed around fast and a single video or blog post can blow up literally over night. This has created a culture of 'internet memes', internet celebrities who get famous for something unbelievable – Brother Sharp, the Chinese beggar, is a perfect example of this. It has also become somewhat of a grassroots police force – where netizens will become enraged with a story of someone who has been abused or wronged and will form an online mob seeking out and often humiliating the person in question.
Group buying is a practice that actually originated in China long before it became an online trend – people would go in with friends and family to buy bulk product from vendors at wholesale prices. Today there are over 100 Chinese group buy online platforms. Traditionally they offered discounts off smaller services like hotels or spa packages, but recently Mercedes jumped on board with a deal where they sold a Smartcar a minute, paving the way for luxury brands to get in on the group buying trend.
Incredible! Back to the core topic, online video is popular in China with sites Youku and Tudou leading the pack. Youku's first day of trading on the stock market set the value of the company at a reported $3.3billlion US. In China, is online video seen as a valuable marketing medium, and, is it being utilized by businesses in their marketing campaigns?
DEBI BLIZARD: Yes, many brands are investing heavily in digital and social media. China has the world's largest online population, 485 million, which is over 50% larger than the entire population of America.
But with that said, we don't recommend basing your marketing strategy on media choices. Everything should start with the creative idea and the message you are trying to get across for your brand. Once you have figured that out, then it's simply about how to creatively show that and from there, what forms that creative will take, i.e. TV, print, digital, online video, retail, etc. Everything should go back to the one core idea and feel seamless and integrated across all media channels as opposed to having one strong digital initiative but not reflecting the same brand look and feel elsewhere. That is just poor communication.
Well said. Debi, tell us how you saw W+K use video successfully – for instance, an ad campaign we're aware of..
DEBI BLIZARD: Online video is such a common tool today that is almost a double edged sword. It is a fast and cheaper way to get your stuff seen and spread, but you have a very short window of time to catch the attention of your viewers in a new and interesting way before they click through to watch something else. The Old Spice 'The Man Your Man Could Smell Like' is a great example of getting people involved and engaged using social media in a way they hadn't thought of before. It built off of the TV commercial that everyone knew and saw in 2010 featuring Mustafa, the shower dude. The idea was to create conversation around body wash with men and women and the campaign captured 75% of all online conversations of the topic. Over 3 days, Old Spice and W+K had a team on-site working around the clock creating videos and responding to fans in real time. There was an element of surprise in it. Then look at how many brands tried to copy the same method since then.
Such a new, memorable campaign. In your opinion, what is a common misstep you see many organizations using video making that could easily be corrected?
DEBI BLIZARD: I would say brands should clearly define at the outset what you want to achieve. And if they can't, you should help them. You'd be surprised how many organizations I've worked with that don't seem to be able to clearly articulate what they want. That's always a messy situation to be in – how can you know what kind of creative work to come up with if you don't know where you're headed? A lot of brands in China also seem to get transfixed on the idea of doing creative work just for the sake of being seen as 'creative.' I think that's bullshit. Have a message, be a brand that stands for something, have a purpose – because at the end of the day, that's why people will buy your brand. Not all brands are creative at their core and they shouldn't try to be. I am sick of reality shows of wannabe dancers and stylists and people trying to catch a break. Respected brands have earned people's loyalty by being honest, hard working and focused – by helping people move forward in their lives in some way.
You've worked in a company spanning nations – you no doubt have insight into the way things are moving! Any predictions for the future of marketing, in general?
[embedit snippet="ad2″] DEBI BLIZARD: I suppose there is a difference in how I think things will move forward and how I'd like things to move forward/ I think it will become more and more important for companies to have a global outlook with a local focus. As environmental issues become more of a concern, I think there will be a much greater need to source and buy things locally.
Personally, I think social media platforms like Facebook, Twitter and YouTube will not sustain themselves. I think people will eventually get sick of the social media craze and that brands will probably over-saturate the space with advertising. I think people will begin yearning for more authentic, physical experiences, sans digital. I think the future of video will be interaction in the physical world, in ways that are almost undetectable and with few barriers, e.g. hologram music concerts which have already started in Japan
Very interesting – we'll have to do a follow up! Thank you for sharing your thoughts, Debi! Is there anything else you would like to share?
DEBI BLIZARD: Thanks for listening – I hope my blabbering is somewhat helpful.
Visit Debi Blizard's Blog: debiblizard.wordpress.com